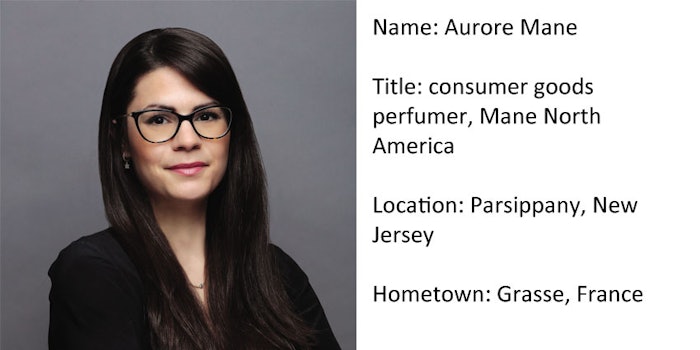 Perfumer & Flavorist+ [P&F+]: What led you to the fragrance industry?
Aurore Mane [AM]: I was born into the fragrance industry, growing up in Grasse, the capital of perfumery. As a child, I was surrounded by roses and jasmine fields, and inspired by playing with my sisters during my father's visits to the Mane factory in Bar-sur-Loup.
Driven by creativity and fascinated by art in general, I grew up admiring my grandfather's passion for plants and flowers. Surrounded by the exquisite landscape and aromas that Provence has to offer, it was "natural" for me to become a perfumer.
P&F+: What applications do you primarily formulate for? Do you have a favorite?
AM: I formulate on a very large range of applications, from personal care such as shower gel, bath salts and body cream to home care such as candles, reed diffusers and other air fresheners where I can let my creativity fully express itself. But my favorite application remains laundry care. I was always attracted by this segment ever since I started perfumery school. I like the combination of creativity and technical skills that laundry care requires. I need to be challenged, to push back the limits of my own knowledge to learn and become a better perfumer.
P&F+: Are there any recent projects/wins you're particularly proud of?
AM: Since I started perfumery, I always felt the same sense of pride from winning a small customer project to a big national brand one. Every win is such an accomplishment for me, seeing my creations coming to life in a product and bringing happiness to consumers who will use them at home is an amazing feeling. But I have to say, I am extremely proud when I can compete in the laundry care segment with the big ones and next to accomplished and great perfumers.
P&F+: Where do you find inspiration?
AM: I find inspiration in everything that surrounds me. I am a very sensitive person and so the emotions that I feel drive my creativity. They come from my everyday life, the simple moments spent with my son, the beauty in the nature that surrounds me, the pleasure of cooking a new recipe and discovering new aromas, contemplating art and paintings, listening to music or even just reading a book. Scents are emotions and feelings for me, it is all about creating an emotional journey when building a fragrance.
P&F+: Describe yourself in three ingredients.
AM: Vetiver bourbon: beautiful, modern, unexpected, earthy, complex.
Vanilla Madagascar: sweet, cozy, comforting, gourmand.
Baies roses/pink pepper: fresh, spicy but delicate, powerful, sensual.
P&F+: Do you have any favorite ingredients to work with? Why?
AM: I love working with woody notes in general. They are dependable and pliable. Woods can be mysterious, elegant, modern, unexpected, complex, textural and layered. They automatically provide a bottom note to any composition and reinforce other elements depending on their olfactive profile. Woody notes bring depth, dimension, character, texture and sensuality to any fragrance and it is a way to complete a scent and add a signature.