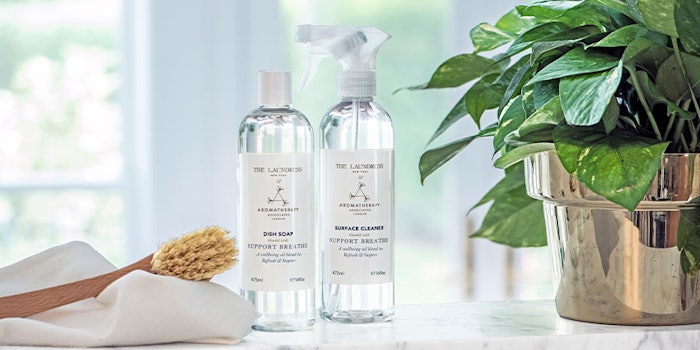 The Laundress and Aromatherapy Associates have joined forces to expand the boundaries of wellness by combining therapeutic essential oil blends with fabric care and home cleaning formulas into four multifunctional household products.
Related: Maison Sybarite Launches Water-Based Fine Fragrance Line
The Laundress x Aromatherapy Associates collection features two laundry detergents and two home cleaning solutions.
The eco-conscious line is infused with three of Aromatherapy Associates' signature 100% natural and vegan essential oil blends, strategically selected for their optimal properties: Deep Relax, Forest Therapy and Support Breathe.
The Laundress x Aromatherapy Associates Deep Relax Signature Detergent features Deep Relax, a well-being oil blended by Aromatherapy Associates' founder to address her own insomnia that helps the mind slip out of overdrive and into sweet dreams. The oil is a blend of vetiver, chamomile and sandalwood and is recommended for laundering linens, bedding and loungewear to help create a tranquil space.
Related: Roberto Cavalli Releases Paradise Found Fragrances
The Laundress x Aromatherapy Associates Forest Therapy Signature Detergent features Forest Therapy, a blend of evergreen essential oils inspired by the Japanese practice of forest bathing that helps users reconnect with nature. Key notes include pink pepper, juniper berry, Mediterranean cypress and Sicilian lemon.
The Laundress x Aromatherapy Associates Support Breathe Dish Soap and Support Breathe Surface Cleaner are formulated to release soothing vapors that refresh and inspire, the scent is hand-blended with high concentrations of eucalyptus, peppermint and tea tree essential oils. The blend is recommended for high-contact dish and household surface cleaning to help renew and improve clarity.
The collection will be available on both brand's websites starting October 15, 2020. Detergents are priced at $45 and dish soap and surface cleaners retail for $30 each.
"We've always connected with The Laundress' vision to elevate and transform everyday tasks from a monotonous chore to a therapeutic ritual with a collection of gorgeous products that are kind to your home and linens as well as to the planet," said Anna Teal, Aromatherapy Associates' global chief executive officer. "As aromatherapy experts, our vision is to share the therapeutic effects that natural essential oil blends have on people's well-being and offer a sense of escapism through scent. With both companies deeply rooted in holistic well-being, this lent for a natural and synergistic partnership."
"Creating a new wellness experience, this partnership melds the best of self-care with the best of home care and is a result of our shared vision to elevate everyday rituals," said Gwen Whiting, co-founder of The Laundress. "Our teams worked together for a year to bring this collaboration to fruition. Developing and testing blends throughout the global pandemic only validated that there is a strong need—now, more than ever—for wellness infused cleaning routines."