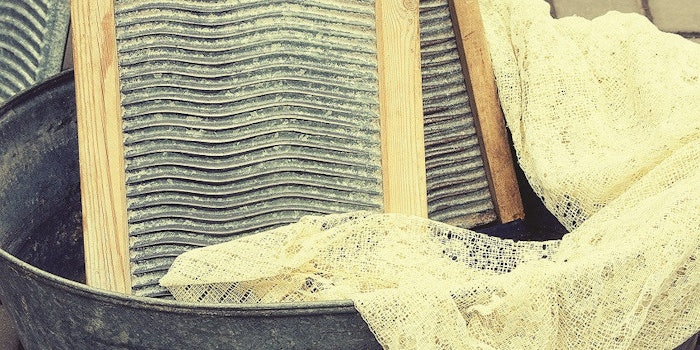 Today's laundry care has come a long way since days spent washing garments and linens in the river, which is still practiced in many countries. Whether washed in a machine or in nature, one goal has remained the same: the need for clean. Ancient Egyptians used a naturally occurring mixture of alkaline salt, animal and vegetable oils to bathe and clean linens. Bleaching was accomplished by the Dutch who soaked linens in a lye and sour milk mixture for eight weeks. In the Middle Ages, garments were soaked in water with flowers and fragrant plants to smell pleasant.
Laundry inventions also evolved, such as the first iron (rollers to squeeze out water) in the 1600s, scrub boards in the 1800s, rotary clothes lines in the mid-1800s and finally the first automatic electric washing machine in the late 1930s, which is where scent found its place in liquid and powder detergents we use today.
What can we learn about ancient laundry practices and scent's role in cleanliness? Today's laundry care products are reflective of consumer demands for personalization, wellness and environmental friendliness all found in a myriad of applications: powders, tabs, liquids and sheets. Each of these applications is an opportunity for fragrances to connect lifestyle preferences with brand success. This issue we explore how fragrance is driving the over $11 billion laundry care segmenta (page 32).
Food Safety and GRAS
As current trends towards food safety continue to reach all corners of food and flavor development, we take a look at the new Food Safety Modernization Act (FSMA) regulations and its impact on beverage labeling. As compliance dates approach surrounding FSMA, flavor ingredients must be evaluated from the food safety perspective as well (page 38).
This issue we also explore how these same trends are impacting the FEMA GRAS list's research and what the latest materials can tell us about the future of flavor (page 18). We'll also take a closer look at some of the latest dairy ingredient innovations in the January Product Roundup (page 8).
I hope you enjoy this issue.
With warmth from Brooklyn,

Deniz Ataman
Managing Editor
Footnotes:
a Statista: Home & Laundry Care in the United States