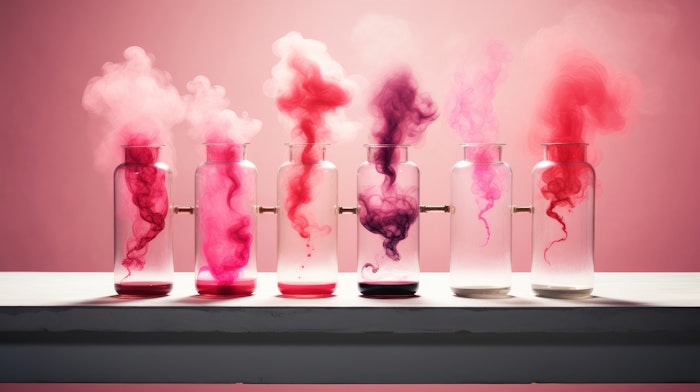 Adobe Stock
The Barcelona Perfumery Awards (BPA) are designed to recognize the best initiatives in the fragrance industry. BPA 2023 has unveiled the finalists for the 10 highlighted categories, which have received 120 international nominations from the entire value chain of the sector.
The Barcelona Perfumery Awards recognize the efforts of companies, individuals and institutions in the fragrance industry value chain. The awards value innovation, knowledge, commitment and sustainable contribution to the sector. The awards are an initiative created by Beauty Cluster.
The expert jury has determined the three finalists in each category. The winners will be announced on November 22, 2023, at the 5th edition of the Barcelona Perfumery Congress. 
1. Best olfaction & fragrance research
FD-INNOV ,Université de Versailles (UVSQ) and Osmothèque Conservatoire International des parfums –

Industrial Fragrance Chemistry: A Brief Historical Perspective

Jover ScienTech – Vercare Ellegant

Scentmate by dsm-firmenich – Focus
2. Most innovative startup in the fragrance industry
Kemchain

Purpose Fragrance

Science Lab 3
3. Most innovative company in the fragrance industry
Chromessence

Grupo Carinsa

Scentmate by dsm-firmenich
4. Most innovative technology in the fragrance industry
AirParfum – Perfume Star Map

Mane – E-Pure Jungle Essence

OE Europe SLU – Refeelit machine
5. Best sustainable ingredient for fragrance
Eurofragance – Verdenix

Scentmate by dsm-firmenich – CLEARWOOD

Symrise AG – Lilybelle
6. Best natural ingredient for fragrance
Cosmo International Fragrances – Myrtle Inca Essence

LMR Naturals by IFF – Neroli Essential Egypt LMR

Lush – Tonka Beans
7. Best sustainable initiative in the fragrance industry
Eurofragance – Community Day project

Iberchem IB-BI

Zalabí – Sustainable distillation
8. Best packaging innovation for perfumery
Pujolasos

Rafesa

Sekurikett
9. Best communicator in olfaction & fragrance
Andrés Croxatto – Perfume – Man

Juan López Becerril – Huéleme mucho

Sandra Iruela – Iruela Fine Fragrances
10. Fragrance career award
Emilio Valeros

Jorge Miralles

Ramón Monegal