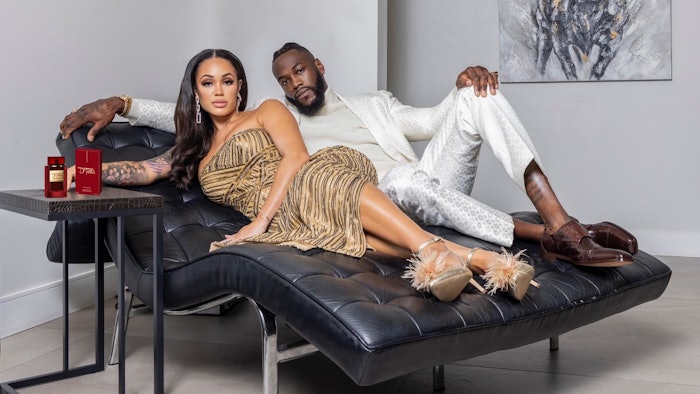 C/O D'TELLI
The genderless fragrance realm just added another celebrity collaboration launch. Reality television star, model and entrepreneur Telli Swift introduces her inaugural fine fragrance—D'Telli (www.dtellifragrances.com). With a mission to bring a new dimension to the fragrance industry with a "progressive, unisex and luxury scent," D'Telli is designed to manifest excitement, adventure and sensuality. The fine fragrance offers top notes of red mandarin and saffron blended with Moroccan jasmine, sandalwood and white musk. 
Voted by W Magazine as one of the top new fragrances of the year, Swift's inspiration behind the scent was drawn from her intimate relationship with her fiancé, Deontay Wilder, to mimic passion and romance. 
Perfumer & Flavorist+ connected with Swift to learn about D'Telli's formulation process, the importance of creating a genderless scent and her experience entering the world of fragrance.
Why did you want to venture into the world of fragrance?
Telli Swift [TS]: We ventured into the fragrance world because we were always fascinated with scents, smelling amazing and captivating attention through fragrances. 
Did you work with a fragrance house to develop our scents? What did the process look like?  
TS: I worked directly with a chemist/perfumer to develop our unique 17-noted scent. The process was a year long and consisted of a lot of trials mixing different notes and coming up with something tantalizing that was the perfect blend for a luxury genderless enjoyable experience. 
Is there anything you wish you had known before creating your fragrance?
TS: Personally, I wish I would have known the legalities of everything before starting. With fragrance being flammable it's a strict mailing policy behind it, etc. Also creating a fragrance is very costly. When you tally up the cost of chemist/perfumer, bottle, packaging, caps, mailer boxes, customization, trademarks, by-laws, etc. you don't realize you've already spent [six] figures!
Fragrance marketing is very unique and different from any other business I've ever done. You can't smell a fragrance by looking at a picture so online sales aren't as easy as it is in comparison to selling clothing, beauty products, cars, etc. Being that fragrance is very personal, I've learned it's best to try, hence why we offer free samples for people to try prior to making a purchase of the larger bottles. 
4. Did you initially go into the formulation process wanting the end product to be genderless? What did that process look like?
TS: Yes, we knew [four] years before the fragrance was created it would be genderless. The formulation process was harsh on my nose! There were notes I loved for women but were too feminine for a man and vice versa. Some notes didn't smell well together, some didn't smell good when mixed with my pheromones. These are just some of the reasons why it was such a long process. I wanted to make sure it was something we both loved and everyone would love regardless of their gender. I genuinely believe it's the right balance of both femininity and masculinity. 
5. From your perspective, what does the future of gender-neutral/unisex fragrances look like? What is driving this trend?
I think the future is bright for gender-neutral fragrances. Gender shouldn't matter when it comes to smelling amazing and creating a memorable moment through scent.