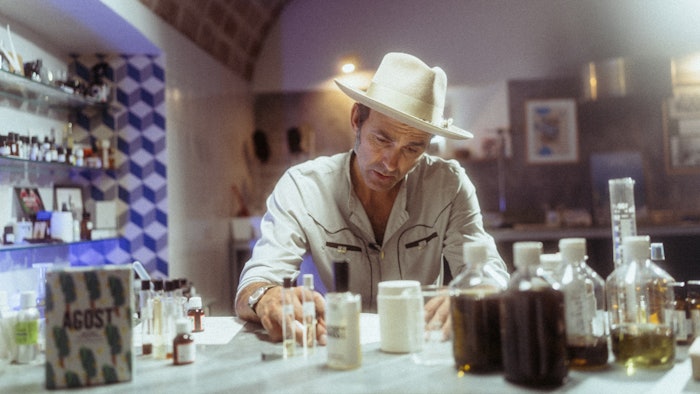 Sustainability and environmental restoration have become major buzzwords in the fragrance industry. Fragrance houses, as well as brands, have made an effort to launch innovative initiatives from supporting farming communities to replenishing landscapes used for sourcing materials.
One of which is the niche fragrance brand Bravanariz. Master perfumer and brand founder,  Ernesto Collado creates "wild-crafted," natural ethically sourced, small-batch perfumes. In an effort to enhance the biodiversity of our natural environment, Bravanariz is rolling out the Bee Brave initiative. With this new effort, the brand aims to give back to nature what it has "borrowed" from the Mediterranean landscape to create its perfume. Bravanariz will also be releasing "MEL," a new organic perfume that pays homage to bees and honey.
Perfumer & Flavorist+ (P&F+) connects with Collado to discuss the brand's recent sustainability initiative and solid perfume launch.
P&F+: What was the drive for launching Bravanariz?
Ernesto Collado [EC]: The motor of this project was and still is our sincere love and daily fascination for nature and its aromas. We capture the essence of the landscapes that move us. We literally put our Mediterranean landscapes in a bottle, and the reason why we do that is to help people re-connect with nature and their environment through smell, which is, without a doubt, the most primitive, animal and emotive of our senses.
P&F+: Can you provide insight into the Bee Brave initiative?
EC: Most of our raw materials come from wild harvested locals' plants, which we collect manually and transform with artisanal processes. From the beginning, I always had the need to give something back to the landscape. As wild harvesters, we always had bees as silent harvesting companions. We learned a lot from these little winged environmental heroes. To start with, they are the true natural perfumers and flower aroma blenders of our region.
But there's much more that we owe them. Especially honey bees, when working for them, they work for us and for the planet. If there are flowers there will be bees, and if there are more bees there will be more flowers and therefore, more plants.
This, for thousands of years, has been one of nature's most beautiful feedback cycles. However, excessive human ambition is changing this equilibrium and breaking the cycle. Bee Brave wants to restore this cycle, even if only locally, focusing on the two parts of the equation: bees and their habitat.
Bee Brave recovers semi-natural habitats of great biodiversity and in regression in the Empordà, called Prats de Dall (Mowing Meadows). The action focuses on the adaptation of the Prats de Dall and subsequent follow-up. This is how we ensure the health and good nutrition of the ecological hives that we have installed there. And on the other hand, these bees help with their pollination task, the recovery and maintenance of these semi-natural habitats.
P&F+: From your perspective, how can these types of initiatives assist the drive for sustainability in the fragrance industry?
EC: As I see it, sustainability is a must, not an option, and far from a marketing strategy. Another thing is the natural environment, and how we relate to it as brands (and humans).
In this sense, some of the few concerned brands have financing systems to collaborate with already existing global environmental programs like planting a tree for the purchase of perfume or saving the blue turtles. These are great initiatives, but usually, the brands have no direct control over what is done.
This is why, in Bravanariz, being a niche 100% natural perfumery brand, and facing problems like the high mortality of honeybees and the loss of precious and highly biodiverse environments, we decided, to do something ourselves. We have been working with local organic beekeepers in the region for years, and we know the land. In this sense, our initiative could be a referent in how acting locally and directly, can make a global change. Bee Brave is our humble way to thank the landscape for all the treasures it gives to us. I would love it if fellow perfumery brands would involve themselves personally as much as we do, but that's something I cannot ask for from anyone.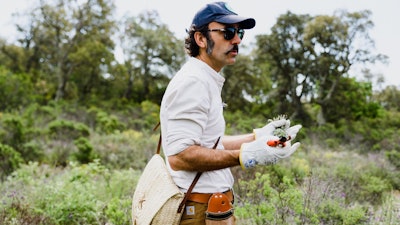 P&F+: Can you touch on the formulation of the soon-to-be-released fragrance MEL? 
EC: MEL is our first solid perfume and the result of a long collaboration with bees, our winged harvest companions. Made from organic beeswax (from the hives installed in our Bee Brave pilot project in Can Bech de Baix) and sweet almond oil from organic farming. Formulated only with essential oils from plants rich in nectar or pollen, which serve as food for our environmental heroes. Elderflower, chamomile, immortelle, Spanish lavender, rosemary, linden and rockroses, to begin with. Soft and balsamic, delicately aromatic. Its warm and welcoming base will make you feel good, with yourself and with your surroundings.
P&F+: What does the future look like for Bravanariz? Any upcoming projects?
EC: Bee Brave is a long-term project. It will take us at least three years to get some data to learn from our actions and be able to make the proper changes and modifications so that our pilot project in Can Bech, can be replicated in other corners of the region. So, there's a lot of work to be done in this direction.
But, of course, this is not our main occupation. We are a niche perfumery brand. We make 100% natural perfumes, and creativity is one of our main assets. We are working on the creation of a 100% natural fragrance for a Spa Hotel in Girona (Spain), a new limited-edition perfume inspired by the Pyrenees that captures the aromas of the high mountain landscapes in summer, and a private perfume for a winemaker who wants to capture the aromatic essence of his vineyards.
We are recently having a huge response in the United States. This is why I'm traveling there in September to meet people for future possible collaborations. We will be giving a talk at Parsons University, about the Bee Brave project and doing some events like an olfactory walk at the Sea Port in New York in collaboration with The Canvas NY, and another olfactory walk together with a workshop in the Golden Gate Park in San Francisco in collaboration with The Ministry of Scent. We are very happy about how our olfactory universe is "touching" the American audience and very excited to find new ways to extend the brand's awareness in the United States.
Want to know everything going on in flavor & fragrance? Sign up for P&F+'s newsletter. You can also follow along on Instagram and LinkedIn.