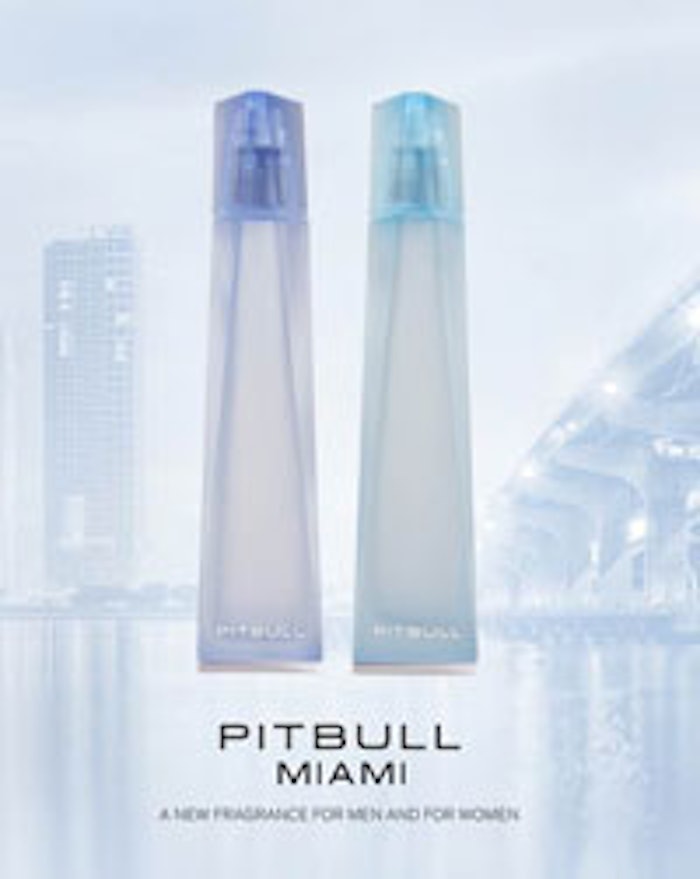 Global music artist and business entrepreneur, Pitbull (Armando Christian Perez) launched two new fragrances, Pitbull Miami Man and Pitbull Miami Woman.
Pitbull Miami Man
As a citrus fougère scent, the top notes of Pitbull Miami Man include grapefruit, lemon and pink peppercorn. The heart of the fragrance is made up of warm spice cardamom corresponding with apple and cool wave notes. The base has a creamy cedarwood and sandalwood combined with warm musks and rich amber.
The scent was created by Pitbull and Caroline Sabas, Givaudan perfumer.
Pitbull Miami Woman
This fragrance is associated with a fruity floral scent. The top notes include wild casaba melon and strawberry passion fruit ice with Italian lemon and fresh white peach. Rain drenched gardenia, blue lotus flower, jasmine sambac and orange blossom make up the heart of the fragrance. The base is a sun drenched teak, Haitian vetiver and exotic sandalwood balance.
Pitbull Miami Woman was created by Pitbull and Steve DeMarcado, perfumer of Fragrance Resources.
Background
The two scents are intended to connect individuals representing the liveliness of South Beach.
"I fell in love with Miami as a little kid," said Pitbull, in a statement. "I wanted to bottle the city's uniqueness in the Miami fragrances, so the world can fall in love the same way I did."
The bottles are packaged with translucent shades to represent Miami's turquoise waters and blue skies, wrapping around the city's skyscrapers.