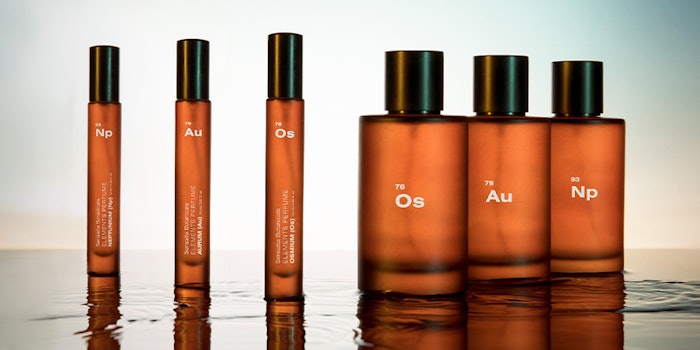 Sensatia Botanicals has launched its first fragrance line called Elements Fragrance Collection.
Related: Lush Launches Renaissance Fragrance Set
The collection includes three scents, each available in either perfume or cologne. 
The scents include:
Aurum (au)

Top Note: mandarin

Middle Notes: magnolia, lavender, ylang ylang, immortelle, jasmine

Base Notes: rose, frankincense, sandalwood, cistus, ambrette seed

Neptunium (np)

Top Notes: clary sage, nutmeg

Middle Notes: lavender, cocoa seed, cinnamon, clove

Base Notes: sandalwood, vetiver, oakmoss, patchouli, ambrette seed

Osmium (os)

Top Notes: grapefruit

Middle Notes: immortelle, lavender, cardamom, rose

Base Notes: blackcurrant, geranium, frankincense, oakmoss, cistus, sandalwood, patchouli
The perfumes are available in 10 ml and the colognes in 100 ml, both retailing for $45 each.