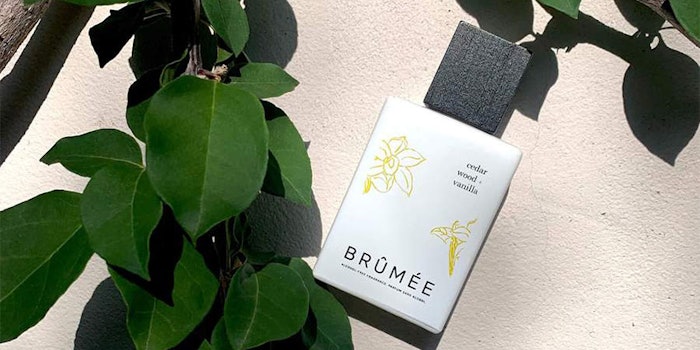 Fine fragrance brand Brûmée has created a line of natural, water-based scents for hair and body, which are certified natural and vegan. The line is entirely alcohol-free and uses raw and natural ingredients crafted in Grasse.
The line features three fragrances:
Cedar Wood + Vanilla: Top notes are orange, jasmine and mandarin, the heart notes are patchouli and rose, and the base contains notes of vanilla, vetiver and seaweed.  
Aromatic Spices + Jasmine: Top notes include lemon, bergamot, grapefruit and pink peppercorn, with jasmine India, petitgrain, cinnamon and cedar heart notes and a base of solaire, soco (desert rose) and peach.
Pine Tree + Vetiver: Top notes are bergamot, mandarin, grapefruit and chamomile. Heart notes feature balsam fir, cedar, osmanthus and sage, with vetiver, patchouli and benzoin base notes.
The 50 ml fragrances retail for £45.00 each and are available for purchase on the Brûmée website as well as from Amazon.
Perfumer & Flavorist+ was able to sit down with Dr. Anne-Claire Walch, founder of Brûmée, to discuss some specifics around the new water-based line of fragrances:
Perfumer & Flavorist+ [PF+]: What inspired you to create an alcohol-free fragrance line?
Dr. Anne-Claire Walch [ACW]: The journey began when I worked in a well-known French perfume house. I spent a bit of time covering in the London showroom, chatting with consumers about the heritage of the French fragrances. With the rise in awareness for natural and organic skin care, and emerging brands at that time, I got so many questions around whether our fragrances were natural or not. With my doctorate in pharmacy cap on, it became pretty clear to me that there was a lack of understanding in terms of what fragrance actually is and its misalignment with the new natural and clean skincare standards.
Fragrance compositions today are by and large made up of synthetic scents and the rest is mostly denatured alcohol—denatured alcohol is ethanol (ethyl alcohol) made unfit for human consumption by adding one or more chemicals (denaturants) to it. Around 5-10% of the formulation is the scent, the rest is alcohol for a traditional eau de toilette.
Some brands are now offering natural fragrances where they exclusively use natural fragrance over synthetic fragrances. However, the other components are still mostly alcohol based. Although this is already a positive step towards cleaner fragrances, it wasn't enough to me.
It became clear to me that there was a need to provide an alternative to those alcohol-based fragrances for the conscious consumers that care about what they put on their skin. We've developed a new range of alcohol-free fine fragrances that the skin will love. Our natural and vegan scents from Provence will leave your skin smelling divine and give a boost of nourishment from the active ingredients used.
PF+: How does the fragrance formulation account for and avoid settling and separation?
[ACW]: Well, I'd say that's our little secret. More so, our partner laboratory's secret. They've patented it, it is called Water-Plant-Emulsion or WPE. It's a unique manufacturing process using a raw ingredient of 100% plant origin. A micro emulsion using Ultradrops is produced and mixed with the natural ingredient at very low concentration, which removes the use of a stabilizer—a compound that's derived from petrochemicals. The micro droplets remain in suspension and give rise to a stable and homogeneous mixture. This is unique, a new way forward for perfume—a real breakthrough in this field.
PF+: How is the perfume treated to sustain the scent for long-lasting wear?
Our production process is completely natural, and the WPE micro emulsion doesn't undergo any special treatment to achieve its long-lasting wear. The formulation process itself makes it possible to obtain this special result: both olfactory and sensory with a silky touch to the skin. It works the same as coffee; when its ground, coarsely, it does not release the subtle and powerful aromas of extremely finely ground coffee.
PF+: What are the main benefits and draws of an alcohol-free fragrance?
[ACW]: As mentioned previously, ethanol-based perfumes have some obvious drawbacks to our health. They are also damaging to the planet, participating in the diffusion of volatile organic compounds which disperse immediately in the air, and then contribute to pollution inside and outside buildings, also participating in the formation of photochemical smog and of ground-level ozone.
All these negatives highlight the benefits of our unique alcohol-free formulation, that removes all the damaging effects that alcohol can have on our health and on the planet. Perfumes transformed into micro-emulsion with the WPE patent, gently hydrate the skin and hair whilst leaving their scent, and the aqueous phase prevents the perfumed compounds from spreading in the air. It also doesn't stain. Using our water-based perfumes is to reduce our footprint on the planet while enjoying the natural aromas they have to offer, as they unfold and mature throughout the day.
However, by undergoing this special procedure, the formulation that's obtained is fragile and doesn't do well under very high or low temperatures. You will also notice that the formulation isn't transparent but instead has a special milky appearance, reminiscent of skincare products. In ethanol-based formulations, the alcohol acts as a preservative, thereby removing this alcohol content means that the formulation becomes unstable and needs a natural preservative due to the amount of water in the formulation.
PF+: Do you formulate the fragrances yourself? If no, can you share with us the perfumers that worked on the scents?
[ACW]: I leave that very special, creative task to experts. My nose partner is a niche fragrance producer based in Grasse, in the heart of Provence, also known as the perfume capital of the world. They are called Néo Parfum and they have been brilliant at executing the vision that I had for this new range. They've created three special scents that all focus on one core note and give it a modern and brilliant twist. Using only natural ingredients is not an easy task because it reduces the options when it comes to developing new scents. That said, I am thrilled with the results. Our fragrances work with the chemistry of your skin and give rise to a very special and unique scent for each and every one of us. Two of our fragrances are also very complementary on men's skin, making them completely unisex.