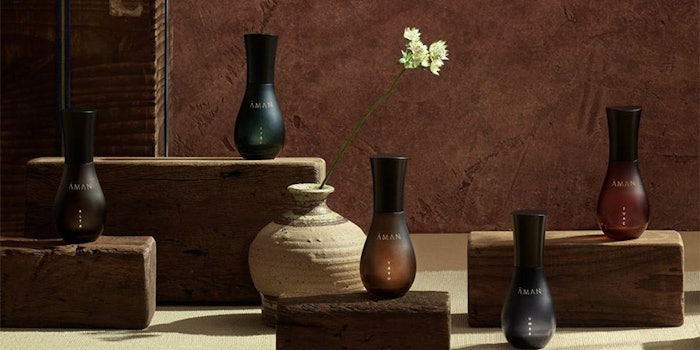 Aman is launching five luxury fine fragrances, available for pre-order. 
Related: Zara Emotions by Jo Malone
The gender-neutral fragrance collection is created by perfumer, Jacques Chabert, and includes the following fragrances:
Alta includes notes of 

geranium, juniper berry, caraway, cardamom, saffron and orris. With a base of labdanum, patchouli, vetiver and sandalwood.

Ayom includes notes of e

lemi, bergamot, cardamom, juniper accents, oak moss and cedar.

Umber includes notes of 

orange blossom, rose, black pepper, saffron, cypriol, leather and wood accents.

Zuac includes notes of 

pink pepper, tangerine, clove, saffron, frankincense, patchouli and vetiver.

Vayu includes notes of 

coconut, white florals, solar tuberose, jasmine, sandalwood and musk.
The fragrances are available for pre-order and are expected to ship December 11, 2020. They come in a 50 ml bottle and retail for $286.