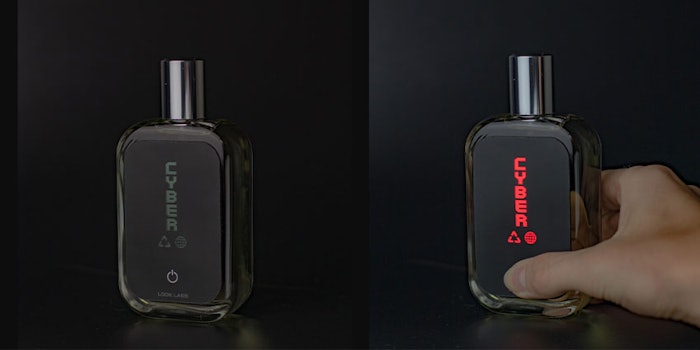 Look Labs, a German studio, has launched Cyber eau de parfum. It is a unisex fragrance with an illuminated label, embedded printed electronics and a strong focus on sustainability.
Related: Samsung Partners with Max Whitlock on Laundry Scented Fragrance
The product combines German technology with centuries-old perfume making traditions from Grasse, France.
Woody notes of cedarwood and sandalwood associated with lemon and tangerine evoke the fever of a spirited city atmosphere. At its heart, it has top signature notes that are reminiscent of the lilies of the valley in Grasse, France.
The printed electronics technology was used by Look Labs to make the product resonate with the new generation of smart, tech-savvy and environmentally conscious consumers. The label, cap and outer packaging are sustainable, and the perfume bottle is refillable.
Related: L'Occitane en Provence Releases Perfume in Oil for Body & Hair
When the power button on the label is pressed, the name Cyber lights up in a bright red light. The universal recycling and earth symbols blink in red to act as a reminder to protect the planet and pay more attention to the environment. The design and functionality of the label is meant to draw attention to the immediate climate crisis and environmental issues.
The perfume retails for $280 for a 100 ml bottle and refills are available to order on the brand's website. The first units are available for pre-order at a discounted price of $225.
Look Labs founder Jordan Katzarov wanted to create "the ultimate luxury fragrance that combines traditional craftsmanship with the latest disruptive technology. Choosing the highest quality ingredients and materials was an imperative step in the process of designing and crafting a product that is unique and the first of its kind on the market."
"Cyber was inspired from sci-fi movies and a world in which technology, AI and advanced scientific innovations are integrated parts of our daily lives," continued Katzarov.
"It was a challenging journey to create a fragrance that combines gender-less, metallic, retro and futuristic elements all in one," said Katzarov. "We designed an astonishing product, both in terms of quality and components. We wanted our customers to completely rediscover the perfume experience with Cyber."