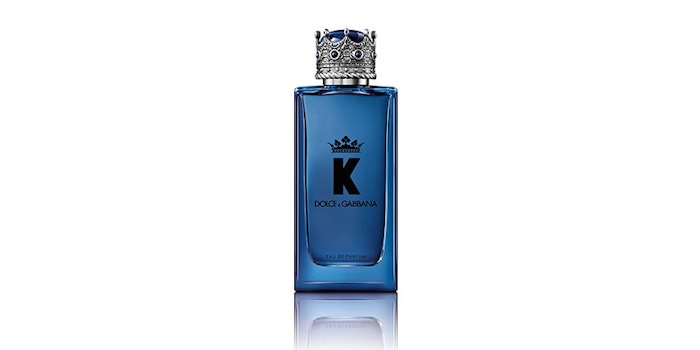 Dolce & Gabbana Beauty has revealed K by Dolce & Gabbana Eau de Parfum, a new fragrance described as intense, magnetic and sensual.
K by Dolce & Gabbana Eau de Parfum builds on the legacy of the Eau de Toilette with a sensual new scent. Inspired by the earthy, rugged landscape of Tuscany, renowned perfumers Daphné Bugey and Nathalie Lorson have reinterpreted the original fragrance to evoke the intense and magnetic sides.
While the Eau de Toilette created a crescendo of citruses, ignited by fiery aromatics and underpinned by noble woods, K by Dolce & Gabbana Eau de Parfum now reveals a new spiciness, a more sensual heart and a stronger woody base.
The Eau de Parfum features top notes of blood orange, lemon torchio, juniper and cardamom. Heart notes include pimento, geranium, clary sage, lavandin and fig milk while cedarwood, patchouli, vetiver and nagarmotha fill in the base.
Maintaining the geometric form of the original K by Dolce & Gabbana flacon, the bottle is now dressed in a deeper hue of blue, reflecting the new intensity of the fragrance. The lacquered glass allows a glimpse of the scent it houses.
The iconic crown, which tops the signature silhouette, is now overlaid with a burnished silver patina, accentuating the noble blue of its lapis dome and the stone-like orbs that encircle it. On the bottle itself, the crowned letter K.
The ad campaign for the launch follows the story of K by Dolce & Gabbana Eau de Toilette, set in the Tuscan village of Montepulciano, the Eau de Parfum presents a new aspect of Dolce & Gabbana's modern king, embodied once again by Mariano Di Vaio, captured by photographer Mariano Vivanco.