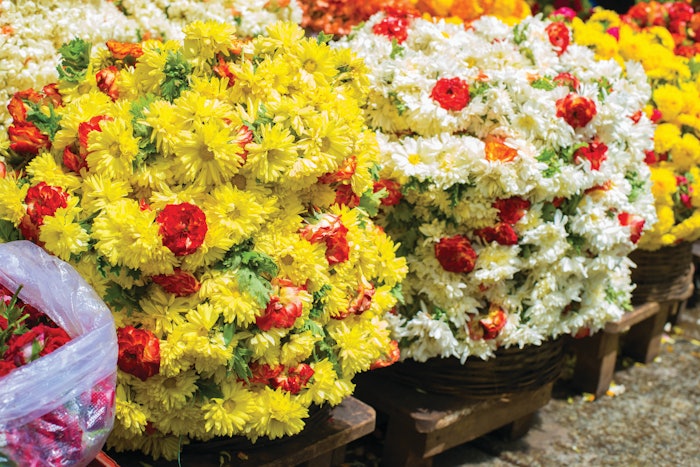 Perfumery is an artform that allows me to bring life to many abstract ideas. It has the power to illustrate my creative ideas in the utmost convincing way. Mary Webb describes this thought in a very beautiful way, "Fragrance is the voice of inanimate things." I always think being a perfumer allows me to bring life to my ideas by using my magical palette of fragrance ingredients. My fragrance creations touch lives and souls in so many different ways.
In this article I describe the relationships of fragrances and colors by sharing some of my experiences bringing color into my creations. If you are one of my regular readers, you probably observed my writings are inspired by my culture, traditions and of course, mother nature. This article will continue this tradition.
Recently, I celebrated Indian festival of colors called Holi (which also marks the beginning of spring). This is a festival where we put color on each other. It's a symbol of friendship, love and affection. During Holi parties, we find heaps of different colors kept on the tables, people put those colors on each other's face. The atmosphere is surrounded by joy, some energetic music and lots of happiness and laughter. As I enjoyed reveling in all the colors and children were immersed in a world of rainbows I realized, every strike of color was a ray of hope, happiness and peace! It compelled me to think, how easily I can relate colors to fragrances or vice versa. For example, whenever we describe a fragrance with marine or ozonic notes, I easily get transported to the blue water waves near the beach. I easily correlate certain shades of blue with marine fragrance notes. Similarly, if I describe a fragrance as grassy or leafy the first color which comes to my mind is green. Whenever a fragrance has connoted an expression of romance or love, I think of the color red and rose nuances. Comfort or sexy notes in my fragrances are through creamy cashmere notes and goes to the color white. Citrus fragrances are yellow and orange colors, while strawberry and raspberry notes lead to a world of pink and shades of red.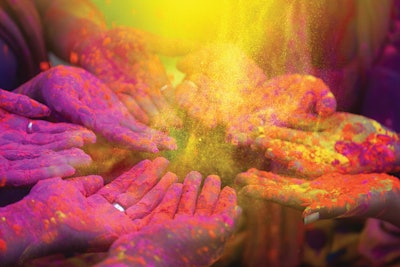 Indian tradition of drawing Rangoli in front of a home is a great source of inspiration. Rangoli is an art form that uses multi-color decorations drawn on the ground in front of a house. It is to welcome guests, a huge part of decorations during most of Indian festivals and celebrations, bring joy and prosperity into homes. Rangoli is almost like a painting illustrating different shapes, expressing emotions with the help of different colors. I am not good when it comes to drawing, however, I appreciate this art and have a lot of childhood memories associated with it. During my youth, for any festival or celebration my mother would draw a beautiful rangoli in our front yard. My favorite design she made had a peacock drawing in it. Now, whenever I see colors of deep blue, coral and turquoise, I associate it with that peacock illustration. I associate oceanic, ozonic breezy notes with those peacock colors and have created many beautiful tropical floral fragrances inspired by these colors. Today, whenever I see a home with Rangoli in its front yard it makes me nostalgic. The Rangoli colorful expressions take me back to days and celebrations of my childhood, flooding my memory and senses with essence of sandalwood, jasmine flowers and coconut notes.
Above I wrote about traditional Rangolis filled with many colors, but some modern Rangoli designs have also incorporated flowers and flower petals. A perfect combination of inanimate colors from chalk and paint combines with the beautiful creations of mother nature and adds even more expression to the creation. Whenever I come across such designs, I feel like I'm witnessing a fragrant rainbow! Inanimate objects in amalgamation with the most fragrant creations from mother nature is another source of inspirational ideas helping my creative juices flow and bring a naturalness and depth to my fragrances.
Discovering Florals
I just touched on flowers and colors and would like to now include one of my favorite fragrance families. The floral family, mother nature at her best. Flowers add colors and fragrance to the whole world in the most artistic way! Being born and brought up in India, I have a close association with the floral family. Flowers play a huge role in India tradition. In almost all festivals and celebrations we decorate our homes with flowers. Flowers not only add colors to the celebrations but also infuse the entire atmosphere with a serene fragrant aura which fills up the entire atmosphere with happiness and joy.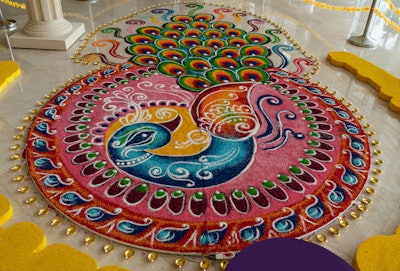 1. Marigold
While growing up, I was surrounded by a variety of flowers. One of my most favorite flowers which I would never imagine any celebrations at my home without is marigold. We would decorate our entire house with marigold strings. This flower is unique. Its color ranges from yellow to orange and it has a very strong fragrant persona. The floral nuances of these flowers are supported by indolic notes (an animalic note). I remember, in my childhood, I would create marigold strings by myself for decorations. These marigold flowers are so fragrant that their aroma lingers on our hands for a long time after they are hung. These flowers have small green stems to them and this green stemmy note adds a special nuance to its aroma. Marigold, in its true glory imparts joy and happiness to all my celebrations with its aroma as well as all its vibrant colors.
2. Jasmine
Jasmine, a white flower that has a fragrant, intoxicating, rich floral odor is another flower and color that has influenced my childhood. A beautiful white floral fragrance with a distinctive animalic note is its persona. In India, there is a beautiful tradition of ornamenting women hair with strings of flowers. Jasmin wins hearts when it comes to putting these beautiful delicate floral strings into women's hair. These pearl white, delicate flowers add a distinct nuance to celebrations but also somewhere resonate the feeling of calmness, purity, and peace!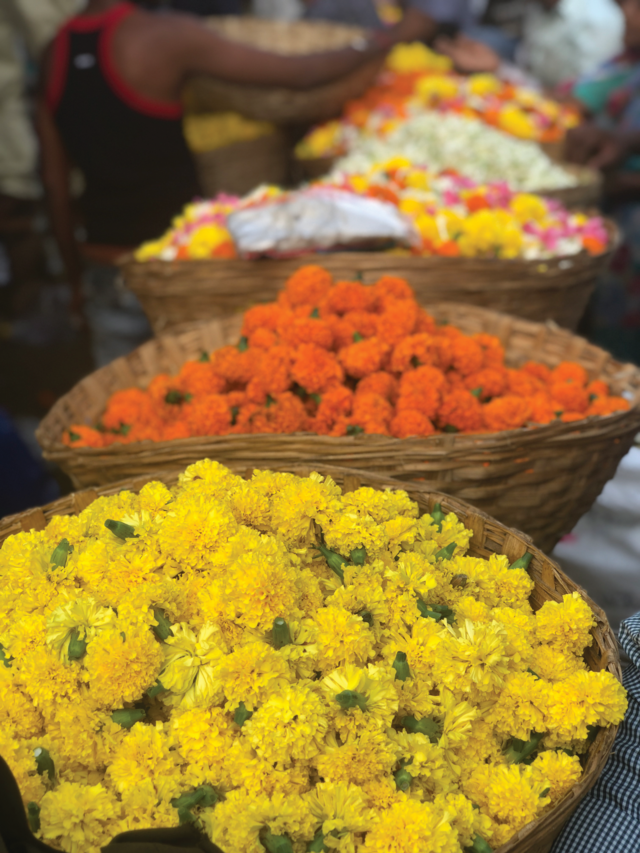 As I am writing this article, I am transported back to my hometown where my family and I would regularly visit the flower market especially during festivals.
3. Rose
As I continue this colorful fragrance journey, I cannot forget about the epitome of romance, a flower which is a show of love. This beautiful fragrant flower is none other than the rose. A beautiful fragrant flower, which diffuses into the air its essence of sweet yet fresh floral nuances. My backyard is adorned with rose trees. Even though roses are available in different colors like red, white, yellow and many more hybrid collections, my favorite is red. The red rose has its own beauty and charisma. Rose is an integral part of many of my fragrances, like jasmine it contributes to almost every fragrance category. Fruity notes like strawberry can be made sophisticated and more natural, a touch of fresh rose ingredient like damascone gives strawberry a very fresh natural facet. I always correlate the color red with roses helping me to design some fragrances showing the floral epitome of love with a beautiful romantic saga.
4. Muguet
Another floral family which is an integral part of my creations is muguet. I always refer to muguet as lily of the valley and describe it as a combination of white and green floralcy with a touch of marine notes. These delicate flowers' aroma invokes a calmness and tranquility. For me, muguet accentuates a perfume by enhancing its heart note. Muguet notes act as a heart note for many marine and fruity fragrances. The nuances of muguet are magic, providing a natural effect to a fragrance making it livelier.
5. Frangipani
As I continue our journey through this colorful fragrant odor family, I am observing that vibrant flowers are not only adding color to mother nature but also manifesting the beauty of a fragrance. Another flower very close to my heart is frangipani (Plumeria). This flower can be found throughout Hawaii. The many varieties of this fragrant flower fill the Hawaiian air with the smell of gardenia nuances twisted with fruity notes like peaches and creamy lactones This tropical flower can be white, yellow, pink or multi-color. I always get the impression from its color and smell that Frangipani is imparting calming, serene emotions along with a feeling of joy at the same time. Somewhat like the feeling which I experience during a tropical vacation! Olfactively, frangipani flowers are a sophisticated, lush, rich floral character which can be a beautiful fragrance on its own. Frangipani notes have a very strong personality, adding nuances of this note can be the key to turning tropical fruit or coconut fragrances more sophisticated and richer.
6. Lilac
The floral family is one of my favorite families when it comes to creation. Every flower has a story to tell. One such flower which makes me very emotional is the lilac. Lilacs are highly fragrant flowers with a sweet, pleasant scent. They add color and beauty to the spring landscape every year. Each color has a different meaning: deep purple has a connection to the spiritual world while light purple is symbolic of first love. My favorite and the one which brings emotion to me are the white petals. White lilac is symbolic of divinity, innocence, purity, and new beginnings. For me, the lilac scent is very floral powdery, bringing to mind the scent of baby products. The white lilac meaning with the floral, powdery scent reminds me of the young days of my son when he was a little baby, bringing many loving thoughts and images to my mind.
The Power of Scent
As I am writing this article, I am transported back to my hometown where my family and I would regularly visit the flower market especially during festivals. People would keep colorful, fragrant flowers in wooden carts or cane baskets to sell. It used to be a very aromatic environment with lots of colors. I remember seeing vendors sprinkling some water on flowers at regular intervals to keep the flowers fresh. It was like being on a different planet. Everything was so pure and colorful! That image and smell remain vividly in my memories to this day. In the beginning of the article, I shared experiences of the amalgamation of different colors and fragrance notes. However, whenever I go to a flower market, it's different, floral notes are unified into a single note which still remains fresh in my mind. Today whenever floral creation comes to my mind, I always add some woody and marine notes to that fragrance as it reminds me of the floral market. My memories will always take me back to that flower market full of hustle and bustle, color, festivity and cheerfulness!
I hope you have enjoyed my journey of color and fragrance notes. I tried to share some insight into how I as a perfumer view the world of color and turn those colors into ingredients on my palette. While my palette may have some limitations, it seems mother nature in all her beauty has no limit. May your world be full of color and have no limits too!