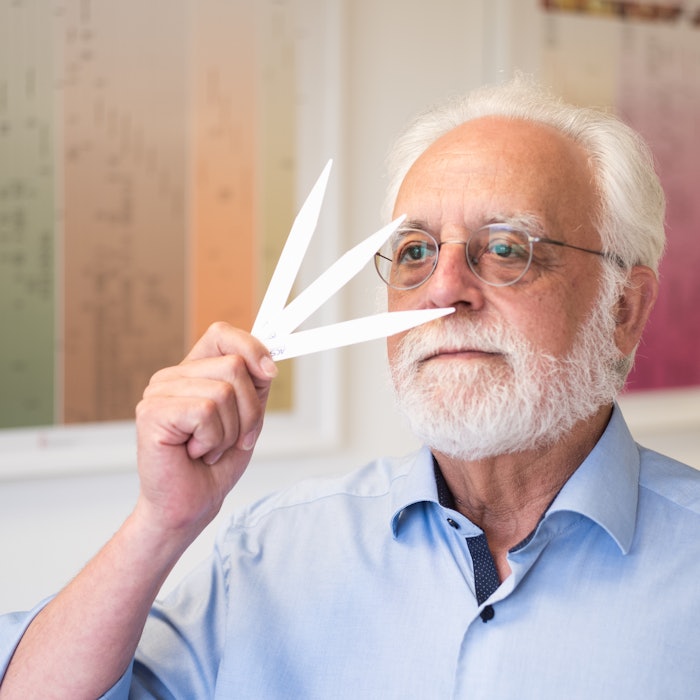 photo by Jan Specklin, ACS.
For the June 2023 issue, Perfumer & Flavorist+ (P&F+) connected with senior perfumer Serge Oldenbourg to discuss his journey to the fragrance industry, how the job of a perfumer has evolved over the years, advice to newcomers and more. Here's a taste of the interview.
P&F+: What led you to the fragrance industry?
Serge Oldenbourg: I would say pure luck! I had just quit university and was relieved of military duties. My wife was pregnant and I was looking for a job; any kind of job would have been satisfying. At that time I was living in Grasse, in the south of France—you know the capital of perfumery—but since none of my family was involved in the fragrance industry, I knew absolutely nothing about perfumery. It was pure luck that I found a job as a lab assistant at Robertet.
While I was studying, my main interest was math. So you can imagine how I felt when I discovered the work to be done as an assistant of a perfumer had nothing to do with any scientific work. I remember coming back home after my first day of work and telling my wife, "There is no science, I will be out within six months!" That was 48 years ago.
Again I was lucky to work for a senior perfumer with a chemistry background, polyglot and very open to showing and guiding me in the field of perfumery. Of course, located in Grasse I cached a lot of information about natural materials, their production, composition and usage in formulations. Besides, I have always been interested in the chemistry that is applied in the F&F industry.
The senior perfumer I was working under became very busy traveling and during his absences he asked me to sort of take over when projects involving his formulas had to be worked out for the price or regulatory reasons.
Then I left to work for Dragoco, first in Paris, then in Hong Kong and Tokyo and finally in Holzminden, Germany.
I then joined Haarmann & Reimer (also in Holzminden), which then merged to form Symrise. Since I knew both companies very well, I transitioned into a role in fragrance parts.
Now that I am retired, I consult for Aroma Chemical Services International (ACS International). I also engage in the development of the International Society of Perfumers-Creators (ISPC) which is assembled of creative perfumers from around the world.
For the entire article, visit Perfumer & Flavorist+'s June 2023 issue.