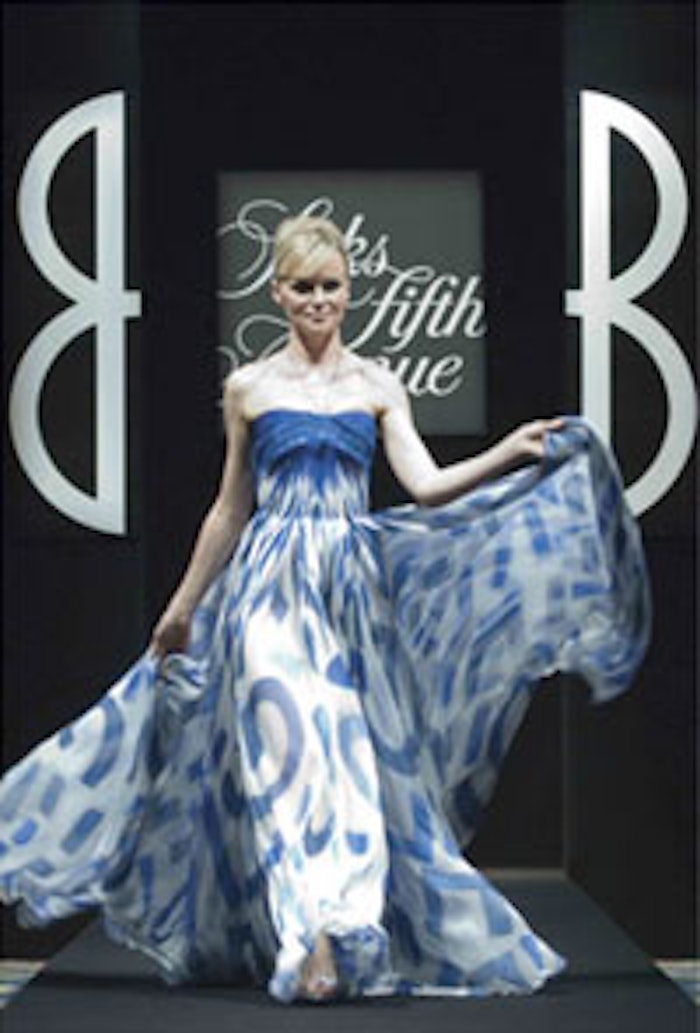 Fashion icon Bill Blass once said, "Style is primarily a matter of instinct." In that spirit, the house that bears his name has challenged a trio of drom perfumers to follow their intuitions in translating Bill Blass couture into five fragrances entitled simply 1, 3, 6, 7 and 8. (More on the numbers later.)
Perfumers Valérie Garnuch, Delphine Jelk and Pierre-Constantin Guéros were each paired with a fabric swatch from one or more Bill Blass couture dresses and invited to freely formulate in response to the colors, patterns, textures and dress type (evening wear, resort wear, etc.). "Most of the time," says Garnuch, "perfumers are pushed in a single direction by a brief. But here, we were free to create, to do whatever we wanted to do." The results, which have an added intensity due to their 18% fragrance concentration, simultaneously reflect the unique signatures of each perfumer and the classy-chic ethos of the couture.
1
Guéros' Bill Blass Couture 1 is a crisp single floral. The number corresponds to Blass' significance as a premier designer of the 1960s who premiered a number of trends in American fashion. "Let's take something classical like tuberose and make it more modern," Guéros says, discussing his response to the fabric's floral pattern (pictured). The scent also includes notes of mandarin zest, clove and orange blossom.
How does he start composing? "I'd say there are two different levels. First, you describe, because to understand something you have to describe it. If it's a fabric, you describe the impressions under your fingers, the colors, the patterns, the inspiration you think is behind it. You think about the designer, the other patterns [in the collection]—all the elements. Sometimes you write words and you try to translate these words into raw materials, or if you think 'chypre' or 'floral-fruity' is the best way to describe a perfume. When I go to ... the lab, I smell the raw materials and see what blends well—then we produce the first [mods]."
3
"The dress is so feminine and sensual," says Garnuch of the garment inspiring her Bill Blass Couture 3 (dress pictured). (The number references the year in which Blass entered the military, where he influenced the design of uniforms.) "I tried to transcribe this feeling in a warm, round, woody-sandalwood, musky and spicy. I tried to work with some Indian spices, ginger and cardamom, which are fresh on top. Bay leaves and black pepper. Cedarwood and sandalwood make it warm, feminine and sensual. I didn't want something sweet."
"I love to work with spices," she adds, noting that it is her signature. "I like to work on masculine fragrances like woods and spices, and in this case I tried to blend them in a feminine way. It's easier to use them in masculine fragrances. There's a little bit of fruit on top, like mandarin, some grapefruit, and the ginger is really sparkling like when you cut fresh ginger. It's a little bit limey on top."
Guéros gestures to the dress that inspired Couture 3: "When you see a dress like that with so much detail, so many layers, a very nice evening dress, immediately you think about a sophisticated fragrance. I cannot imagine a sporty fragrance for that kind of dress. So you think 'what could be feminine and sophisticated'—a floriental, floral-woody or oriental."
6
The number 6 was Blass' favorite, and Guéros' Bill Blass Couture 6 is itself based on one of the perfumer's favorite locales—Morocco—suggested by the red roses and dark flowers on the dress' pattern (pictured). "It's very interesting to work with patterns," he says, "because you have something physical to touch. I have been to Morocco many times and I love it very much. There's a big history between Morocco and roses, of course. I wanted to recreate that impression, with the spices and woods and flowers. The top note is very spicy. And then you have the nice floral heart. And, finally, patchouli, sandalwood."
7
Presented with the swatch that would inspire Bill Blass Couture 7 (the number of one of the designer's homes), Jelk was struck by its sense of spontaneity. "So I went to citrus, very sparkling." The fresh scent is paired to the resort wear's silky, flowing, sequined pattern (pictured). "I used quite sophisticated citrus, cedrat, pink pomelo and bitter orange instead of lemon, and flowers like magnolia and orris." The perfumer's goal was to achieve refreshing and effervescent tones without employing marine notes. "You have slightly anisic notes coming from tarragon," she adds. "In the background it's almost woody, incensey."
8
New fragrances will be introduced to the Bill Blass Couture collection each season, the latest of which is 8, based on a swatch (pictured) from the house's 2009 collection. At press time, the scent had not been pared down from the original three demos formulated by Jelk, Garnuch and Guéros. Having three perfumers respond to the same fabric has made for interesting contrasts in style and signature.
"I saw some poppies and peonies," says Garnuch, who titled her demo Sky Poppy. The scent is designed, she explains, to open like a flower, starting off fresh and sophisticated opening onto a burst of floral impressions.
Guéros' Wild Orchid demo, meanwhile, has a bottom note of bamboo that stimulates the stemlike quality of a fresh-cut flower, imparting a mild, purely floral impression.
Finally, Jelk's Happy Peony scent plays with floral and fruity impressions. "I made it a powdery flower, a bit like a violet and rose," she explains. "Peony smells somewhere between rose and muguet, but I wanted something more sophisticated than muguet. It's also very fruity. I wanted to have a berry quality." Jelk toyed with a raspberry quality, while also using green notes and very musky base, which mixed with the violet to accomplish the scent's powdery character. "Musks and red fruits match very well," she says, citing L'Artisan Parfumeurs' Mûre et Musc. "For me it is almost blackberry," she says of Happy Peony. "It's more interesting and sophisticated than [just] fruity notes. It's really to enhance the flower. It's almost cassis, but without the cat pee."