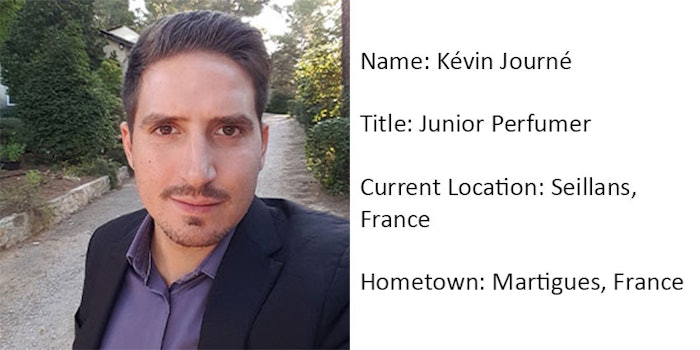 Perfumer & Flavorist+ [PF+]: What led you to the fragrance industry? 
Kévin Journé [KJ]: Honestly, at first, it was the result of chance. I studied chemistry but that was not enough for me. So, when I looked for what to specialize in, I came across the world of perfume and the possibility of learning the profession of perfumer. I fell in love with this new world that was opening up to me and I did everything to integrate this training. Eight years later, I'm doing my dream job. 
PF+: Where do you find inspiration? 
KJ: My inspiration comes from my desires of the moment, but above all, it comes from my personal experiences. I try to do as much as possible around my job but also outside to acquire a culture or knowledge that will allow me to make fruitful my imagination and therefore my inspiration. Likewise, family, friends and the meetings that we have to do in life and what we experience with all these people, give essence to creativity. 
PF+: What applications do you primarily formulate for? Do you have a favorite? 
KJ: I mainly work in alcoholic perfumery but sometimes I work on homecare products (candles, room fragrances). I prefer to work on fine fragrances because it has always been a category I've wanted to work in from the beginning. 
PF+: Do you have any favorite ingredients to work with? Why?
KJ: Yes, indeed, I have several, and especially certain natural raw materials such as tonka bean, davana and osmanthus. These three raw materials are very interesting to me because of the different olfactive facets they offer. 
The tonka bean will bring an intense note of vanilla, praline, caramel blended with hay, tobacco and also animal notes. Tonka has a very addictive character to me, I could smell it for hours. 
Regarding davana and osmanthus, it's their exotic facet that gets my interest. They both have a powerful fruity, apricot-like scent and a soft, velvety side. Osmanthus brings also jasmine and leather notes, while davana brings woody and liquorice nuances to its fruity note. These two raw materials make me travel to a paradise island in the middle of nature while drinking a very good cocktail.
PF+: How has COVID affected your day to day as a perfumer? 
KJ: I was lucky to be able to keep working even during this difficult time. You had to adapt to the situation and slightly change the way you worked with new projects and customer expectations. But the most important thing was to respect the health precautions, especially when you know that the loss of smell can be one of the effects of this virus and thus prevent me from working.