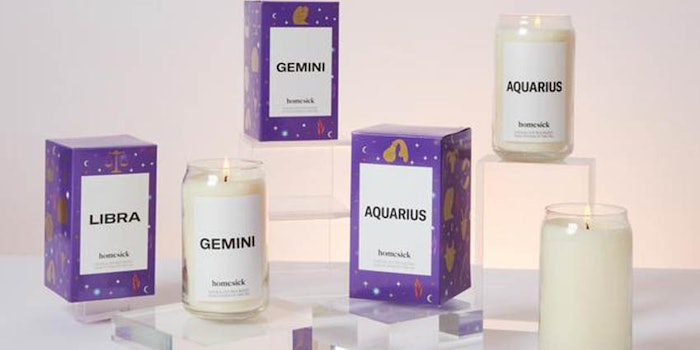 Homesick launched a collection of candles designed for each Zodiac sign to capture the uniqueness of each astrological sign.
The Astrology Collection features 12 scents made from a natural soy wax blend with no lead, plastics, parabens, phthalates or synthetic dyes. Each candle has an average burn time of 60-80 hours.
Related: Latest Themed Air Care Launches
The Homesick Astrology Collection includes:
Capricorn Candle: The Ruler holds base notes of warm white whisky rooted with cedar bark, middle notes of teakwood and tobacco and top notes of citron, bergamot and amber.
Aquarius Candle: The Maverick features top notes of cassis, plum blossom and fig, middle notes of mandarin, coconut and tamarind and base notes of ylang-ylang, pomegranate and rose.
Pisces Candle: The Mystic features top notes of lily of the valley, water orchid and blue waves, middle notes of beach moss, white sands and aloe vera and base notes of driftwood, cactus flower and eucalyptus.
Aries Candle: The Warrior is made with base notes of black pepper and smoked amber, middle notes of lemon flower and cinnamon and top notes of bergamot and grapefruit.
Taurus Candle: The Sensualist contains base notes of sandalwood and musk, middle notes of balsam and blue cypress and top notes of agave, oakmoss and verbena.
Gemini Candle: The Messenger contains top notes of jasmine, rosemary and lemon, middle notes of cyclamen, gardenia and tonka and base notes of vanilla flower and cashmere musk.
Cancer Candle: The Nurturer is made with top notes of lily of the valley and iris flower, mid notes of violet and water lilies and base notes of patchouli and leather.
Leo Candle: The Creative features top notes of mandarin and peppercorn, middle notes of cinnamon bark and nutmeg and base notes of chili pepper and sugar cane.
Virgo Candle: The Healer features top notes of fresh citron and amber, middle notes of oud wood and clove and base notes of patchouli, cedar and musk.
Libra Candle: The Diplomat contains top notes of water lotus and mineral springs, middle notes of honeysuckle leaves and lavender and base notes of water lilies, bamboo and cedarwood.
Scorpio Candle: The Alchemist holds top notes of balsam and fir needle, middle notes of evergreen forest and willow and base notes of eucalyptus, patchouli and musk.
Sagittarius Candle: The Explorer is made with base notes of sandalwood and lavender, middle notes of vetiver, tobacco and musk and top notes of verbena, sage and thyme.
Want to know everything going on in flavor & fragrance? Sign up for P&F+'s newsletter. You can also follow along on Instagram and LinkedIn.