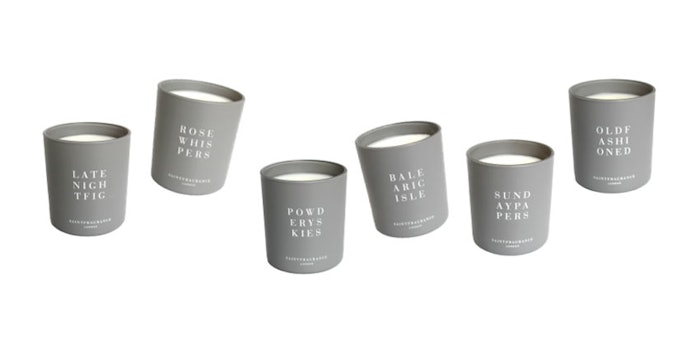 Independently owned, London-born brand Saint Fragrance has launched with a line of six calming candles.
With its minimalistic design, each highly dosed, indulgent candle offers relief from the fatigue of fast-paced lives.
Hand-poured in the UK using responsibly sourced ingredients, the vegan-friendly collection forms unique sensual experiences. All six variants, which include Late Night Fig, Rose Whispers and Sunday Papers, diffuse a mindful balance according to the brand.
"I noticed there was a gap in the market for a new premium, gender-free British brand which targeted the modern and mindful consumer. Composed on the outside and playful inside, our clean aesthetic, with signature 12-letter design, has been carefully considered to complement an array of spaces and personalities," said Founder Sam Pringle, who has worked alongside expert perfumers for almost a decade designing fragrances for globally loved brands.
The line combines understated luxury with an eco-angle, the packaging is sourced in an environmentally friendly way, free of cellophane wrap and is 100% recyclable.
"The minimalistic design of our jars means they can also easily be repurposed within your home to leave a lasting statement," said Pringle. "Our aim has always been to grow organically. With the United Kingdom being Europe's largest burners of candles, we knew it would be a great entry point for a brand with ambitions to later expand into fine fragrance and personal care products."