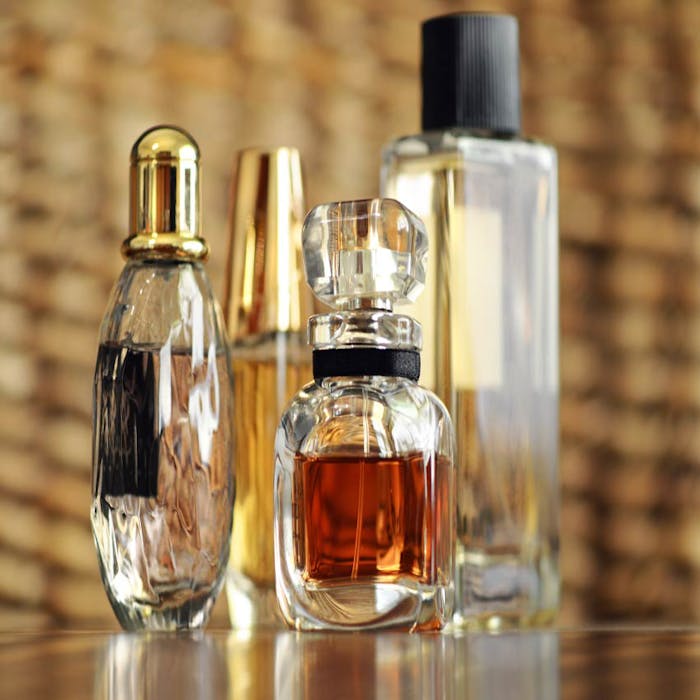 Never before has an interactive discussion between a fragrance house and its client taken place in a public setting. Never before until today, that is—when Jeb Gleason-Allured, editor in chief of Perfumer & Flavorist and Global Cosmetic Industries magazines, and program director of the World Perfumery Congress (WPC), brought both to the stage to lead attendees through the dynamics of the client-perfumer relationship and the power it brings to brands. Joining Gleason-Allured were Bruno Jovanovic, perfumer at International Flavors & Fragrances Inc., and Iain Stevenson, prestige fragrance design leader at Procter & Gamble.
Acknowledging the importance of this session topic, Stevenson remarked "the relationship between the creative and business sides of fragrance development has never been more critical than [it is] today, and we need to keep building these relationships." Jovanovic agreed, "I am excited about the new ways we carry out partnerships and the application of technology."
Emotion, Context and Storytelling
Gleason-Allured started the discussion "from the beginning," as he put it, posing to the panelists: "How can emotions be interpreted 'into' a [fragrance] brand?"
Stevenson responded, "Consumers need help translating a brand. It needs context—that's what brings a fragrance to life."
Jovanovic added, "And while we may be familiar with brands, something we need those brands to be is focused, to develop [emotional] relationships."
Gleason-Allured continued, "So when dealing with a fashion house brand and legacy, how do you instill a little bit of excitement without altering the brand?"
Stevenson observed, "One of the things you need in this industry is to have a story you can tell people. It's not enough to just have an attractive fragrance."
Jovanovic likened this storytelling to art and a connection with history. "Like every art form, something every brand needs is a white canvas, [and to use it to see] where and how far it can go. It's also interesting to share with the brand their wealth of culture and history. For me, this is a constant source of inspiration."
Deciphering Designer-speak
Stevenson circled back to the perfumer's vision "The truth is, we're here to help the [fragrance] designer bring their idea to life; so we need to have an understanding of where they want go with it."
"And with the creativity of the brand, owners and artists, we need a middle man to translate what the designer's [intent was] for the fragrance," said Jovanovic.
Gleason-Allured picked up on this potential for a fragrance's story to be "lost in translation." "That's a great point. Both fashion designers and perfumers are artists but speak different languages." He conjectured, "so how can you be sure the right message is translated?"
Stevenson responded, "The [fragrance] designer has ambition and knows what they can do for the customer. They come to us with different ideas and we take design language, non-perfumer to perfumer, and translate this to fragrance. We often need to bring that story into the designer's world."
Jovanovic added, "And while the history of the brand is important, we want to move to the future. So we need hear what vision the designer has but we also need to understand the [larger] idea—and packaging also has a lot to do with this.
Smoke and Mirrors?
To stir things up, Gleason-Allured next posed a controversial question: "So is there really innovation in this market, or is it all smoke and mirrors?"
Stevenson replied, "That's a good question. We're still selling [a product in the same] format, but when I look at how much energy we're putting into it, and some of the fascinating things going on, I think there is innovation but not enough."
Genuine and Unique Collaboration
Gleason-Allured came back around to the concept of collaboration, prompting, "Talk more about your particular collaboration. How is it that perfumers and brands can create unique and genuine fragrances?"
Jovanovic responded, "We are moving away from the perception that he is the consumer and more toward doing things together. . .There are so many platforms we can create but it's always done in combination, and that is interesting."
Stevenson added, "And we have had a long-standing belief that it's important to avoid hubris. There are other real experts out there, and we do best by developing a relationship with them. We can't just sniff and judge, and create 400 iterations; it's in partnership with what we build."
How might they do this? Stevenson explained, "We have been working to get perfumers out of the office to make sure they have new materials to work with. And we go in groups to unusual spaces looking for solutions that might help us. [That's where the] magic comes because we get great stories alongside it.
He gave an example from several years ago of an expedition both IFF and P&G took to South Africa. There, they identified a fruit with an interesting character that they evaluated as a team.
Jovanovic added, "What's important here is that this initiative was born from a common objective from IFF and P&G to do this together, not in a vacuum." Regarding to new fruit, he added "It was interesting. You see some candidates with huge potential, and with this 'magical' fruit we thought this would be a great Hugo Boss fragrance. The fruit itself smells like a fragrance so in this case it wasn't too hard—I probably shouldn't say this too loud—but the job was then to translate that flavor and smell into something that was usable. [From this], we created a fragrance that became a big success and we were pleased with the product."
Stevenson noted, "We're not the only people to look for inspiration from nature but the whole objective is to give the whole team a palette they otherwise would not have. This drives us to different places and in new ways."
Jovanovic added, "It's really an experience and we've been lucky to have so many combinations of notes that we would not have found if not for the work done in the jungles. It changes the way we think and attack a creation. I need inspiration and ideas and in this case, they are coming straight from nature, which does it so well."
Creating Success and Trust
Gleason-Allured responded, "This is a great example. So how, then, do you inject new ideas into the creative process?"
Stevenson said, "You need to create a trusted relationship, for example as I have with Bruno and other colleagues, to bring things like new technologies, natural or new construction, to him that also brings something new for the perfumer. My job is to help Bruno succeed."
Gleason-Allured furthered, "And how do you make sure that a creative team will work together to ensure the best results? How do you foster partnerships between teams?"
Stevenson replied, "[In our case], we have a history of working together and we create stories in interesting spaces. What you need in this industry is to really drive perfumers in a way to inspire them. They are the people who put fragrance into action, and it's our job to foster a trusted relationship so we can work our way into partnerships and then have time to experiment in a safe [i.e., trusted] way."
Jovanovic noted, "And do it even before the project begins, to make it easy to communicate and share ideas. We created a new space by our two companies working together very early and we took our time.  And it doesn't mean taking just the time to develop together, doing 500 iterations; we took creative and experimental time."
Stevenson added, "Yes, at this fuzzy front end of innovation."
Down to the Consumer
Gleason-Allured next brought the discussion back to the consumer. "Ultimately, fragrance development comes down to consumers—so how do you keep quality and audience front-of-mind while developing, with emotion and brand also in mind?"
Stevenson replied, "…You have to have passion for your consumers; passion for the people who are buying your products. Love them, figure out what they want and are passionate about, then develop for them.
Gleason-Allured countered, "So does consumer testing need to accompany fragrance development?"
Stevenson responded, "You need to do the right research and really understand the person in your audience. You need an understanding of whether you have a product that people will like, and create a technically correct product."
Jovanovic said, "From a pure design point of view, you need to design with a purpose. In some cases, there are negative thoughts, for example, around Chanel No. 5 or other fragrances because they can be seen as very commercial—because they are huge commercial successes. We tend to associate commercial with boring; but creating commercial fragrance is important to the industry.
He continued, "And it is true that the data you receive from consumer testing is best. It's better to have more data about products. You don't create in a vacuum—and more data helps me see and know the audience better. So you can see [consumer testing] as a restriction or an opportunity."
Complete and Successful
Gleason-Allured next pressed, "How do you know when an iteration is complete? What does it feel like and when do you know you've reached the end?"
Jovanovic replied, "For me, there are moments when you have a feeling that [a fragrance you've developed is on the right track.] For other fragrances, we've created many iterations and have tested them to confirm they we were in a good spot; so testing was used as a way of helping us. But a fragrance really is not ever finished. It's a living thing—and where do you stop?"
Stevenson added, "You can also make modifications in the experimental stage of fragrance development. But a fragrance is [really] finished when the story you are telling is clear. This means you can see what story you are telling, and the people you are telling it to understand. Sure, you can always make a modification but you can usually reach a point when all the experts in a room can look at each other and say 'it's done.'
Gleason-Allured furthered, "So how do you know when you have something that is truly great, or will be really successful?"
Stevenson explained, "You just smell it and you think this one has something. And it's not just new for newness sake. You can tell when there is passion behind it; you can sense it."
Jovanovic noted, "It's true that we perfumers work and always hope for the best; we always think our fragrance will be huge success and it's easy to get carried away. That's why you have other aspects to check, including the package to know a fragrance will do well because everything will make sense; the whole puzzle goes together… there is no magic recipe, the scent just shows the passion behind it."
Mass Upgrade
Gleason-Allured saved his closing question to ask about not just prestige fragrances, but those on the mass market, and used elsewhere. He added, "How do you see the future of the prestige market, especially considering those used in consumer products?
Stevenson admitted, "There is no doubt we have a challenge. The quality of mass brands is getting better but we will have a good future if we tell a great story in our bottles. Having a good story, have a good story and bringing that new experience to consumers will help the future of our businesses.
Jovanovic closed with the importance of consumer awareness. "A very important trend we see more and more is that consumers know if a fragrance is prestige—and I think that's key for the future of our industry; making sure the industry gets better and better will make it more successful."