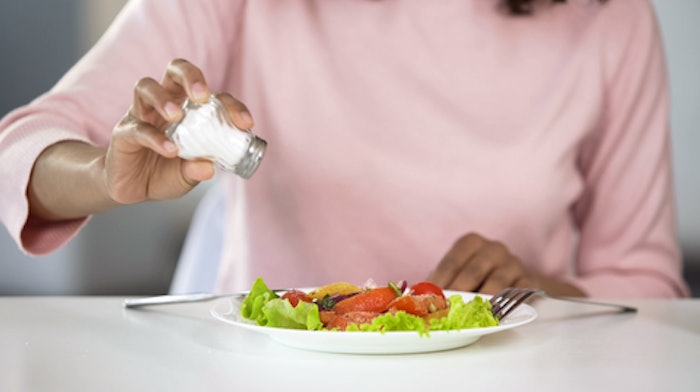 Dreamstime
A report by Mordor Intelligence projected the global sodium reduction ingredients market to grow at a CAGR of 11.71% during the forecast period (2022 - 2027).
Related: Reduced-Sodium Product Innovation Trends
The report cites that the increased health and diet awareness among the consumers shifting their preference to less sodium intake products and changes in consumer behavior and demand, purchasing patterns, re-routing of the supply chain, dynamics of current market forces and the significant interventions of governments are expected to growth of the market.
Growth in the food industry, especially in the packaged and processed food segments, increases sodium consumption among consumers. To reduce this high consumption, manufacturers make tasty and healthy products with less sodium content. The levels of sodium and the ingredients used to reduce sodium content differ across applications, mainly due to each application's variations in taste, texture and usage requirements.
Highlights of the report include:
Mineral salt is the leading ingredient in the global sodium reduction market, accounting for a significant market share. This is mainly due to wide availability, high functional benefits and moderate price compared to other ingredients. However, natural sodium-reducing ingredients, such as yeast, are growing faster.
Based on product type, the market is segmented into amino acids and glutamates, mineral salts, yeast extracts and others. Mineral salts are further segmented into potassium chloride, magnesium sulfate, potassium lactate and calcium chloride.
Based on application, the market is segmented into bakery and confectionery, condiments, seasonings and sauces, dairy and frozen foods, meat and meat products, snacks and others.
North America holds a significant share in the sodium-reducing ingredients market, owing to several fast food and other food processing industries in the region. Also, governmental initiatives undertaken to increase consumer awareness of the benefits of sodium-reducing ingredients are expected to boost the overall market in the area.
Europe is the second-largest market due to the region's health-conscious individuals.
The Asia Pacific is expected to witness rapid demand for sodium-reducing ingredients due to the growing consumer preference for packed food in the area.
Highly populated countries such as China and India are expected to drive the region's sodium-reducing reducing ingredient market.
Want to know everything going on in flavor & fragrance? Sign up for P&F+'s newsletter. You can also follow along on Instagram and LinkedIn.