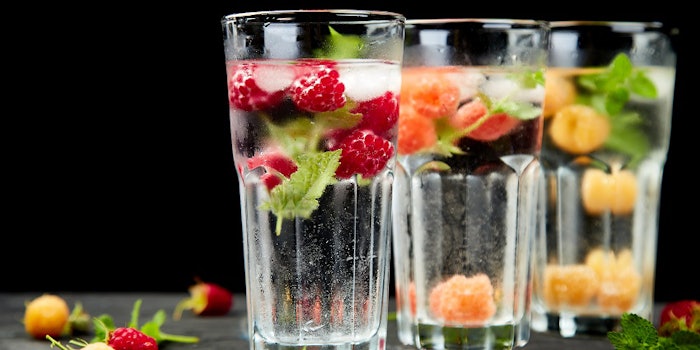 According to a recent Market Research Future report, the flavored water market will grow at a CAGR of 9.5% from 2017-2023.  
Health in a Bottle
Categorized as any water infused with flavors, the flavored water market is seeing growth due to consumers interest in healthier and more functional products. Some of the flavors that have been incorporated into waters include lemon, orange, mixed berry and apply, along with a variety of herbs, vegetables and spices. Lemon is projected to dominate the market, followed by orange flavors. Additionally, the report highlighted how more consumers are opting for bottled water due to concerns over water quality and other environmental issues.  
Functional Frenzy
As consumers are looking for healthier beverages that provide added benefits, the flavored water market has responded with a flurry of product releases. One of the leaders in the flavored and functional water category is Hello Water with its line of flavored and fiber infused water. Created with natural flavors, it's line of water is available in either mixed berry, lemon lime, pineapple coconut, cucumber lime and orange mango.
Another leader in the flavored water market is Hint with their line of lightly infused fruit waters. Its main line of beverages includes watermelon, cherry, pineapple, pineapple peach, pear, blackberry, peach, crisp apple, peppermint, blood orange, pomegranate and other flavors. Additionally, the company has branched out into the caffeine-infused water category with its Caffeine Kick line, which is created with natural flavors and is available in apple pear, black raspberry and lemon cayenne flavors. As the category continues to gain more attention from consumers, the market should see further growth along with the introduction of unique flavored options.