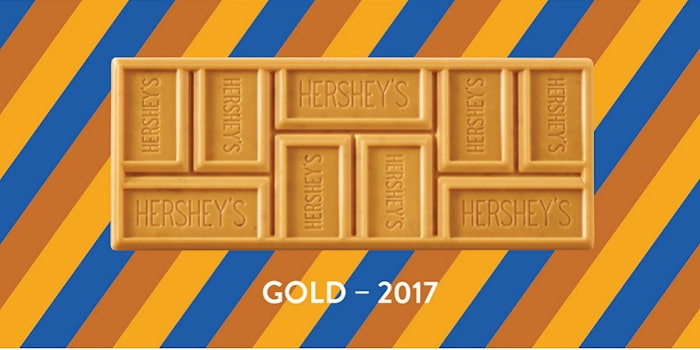 The Hershey Company has announced the launch of its Hershey's Gold bar, the fourth flavor for its company's portfolio.
"The introduction of Hershey's Gold bars marks a defining moment for The Hershey Company as a chocolate innovator, while also commemorating the influential and cultural moment of the Olympic and Paralympic Winter Games," said Melinda Lewis, senior director and general manager, Hershey's franchise at The Hershey Company. "We want consumers to share in this golden opportunity and be a part of this historic moment for Hershey and Team USA."
Taking into account rising trends for crunchy multi-textured candies, the Hershey's Gold bar is a caramelized crème bar with salty peanuts and pretzel bits. This marks the fourth flavor in Hershey's portfolio, the other three include milk chocolate, dark chocolate and white crème chocolate.   
"The buttery, sweet taste of Hershey's Gold bars provides an entirely new way for consumers to enjoy our brand," said Lewis. "We use a proprietary cooking process to transform the white crème into a golden bar by caramelizing the crème, which helps maintain a sweet, creamy taste. The launch of Hershey's Gold will introduce Americans to a new flavor and a new experience unlike any others before."
The product launch coincides with the brand's official sponsorship of the United States Olympic Committee (USOC) and the countdown to the PyeongChang 2018 Olympic Winter Games.