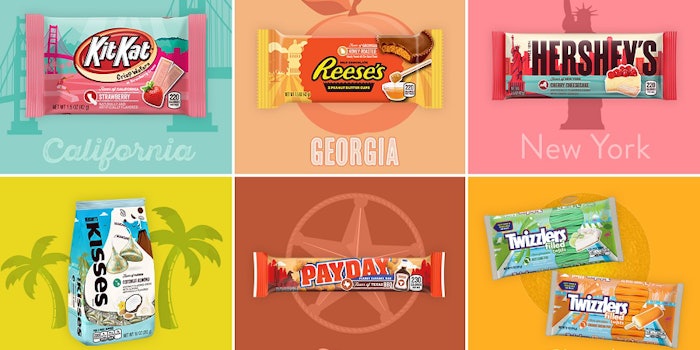 The Hershey Company has released a line-up of limited-edition flavored candies inspired by popular American tourist destinations.
The new "Flavor of America" collection will feature seven Hershey products with popular flavors from specific regions. The products released are detailed below.
Kit Kat Strawberry Flavored Candy. This new flavor takes inspiration from California's annual strawberry festival.
Hershey Kisses Coconut Almond Flavored Candies. The beaches of Hawaii inspired this candy.
PayDay BBQ Flavored Bars. Texas inspired tangy BBQ-seasoned peanuts are covered in caramel for this treat.
Reese's Honey Roaster Peanut Butter Cups. A Georgia twist on the classic flavor, these cups include a hint of floral flavors, amber and molasses.  
Hershey's Cherry Cheesecake Flavored Bars. New York-style cherry cheesecake flavor is included in these bars.
Twizzlers Orange Cream Pop Flavored Twist. These twists are inspired by Florida oranges and the popular ice cream treat.
Twizzlers Key Lime Pie Flavored Twist. This Florida flavor blends sweet and tart tastes. 
The collection is currently available nationwide while supplies last.