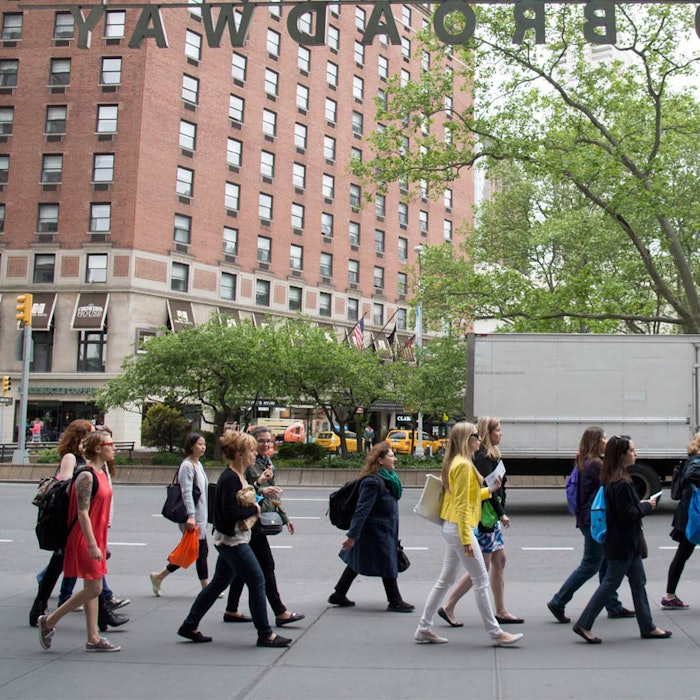 All images courtesy of Dan D'errico
On May 17, 2016 the Women in Flavor and Fragrance Commerce, Inc. (WFFC) held its 9th annual sensory flavor and fragrance trend excursion. Attendees explored New York's Upper West Side neighborhood, led by Amy Marks-McGee, founder of Trendincite LLC and current WFFC president and Jeanine Pedersen, marketing manager, trends & communications, Takasago International.
The trek began at the Breads Bakery Lincoln Center location (1890 Broadway). The artisanal bakery crafts handmade breads and pastries using traditional baking techniques. Known for its Concord Cake, a chocolate mousse layered with crisp meringue, guests indulged in this decadent, signature dessert.
Next, guests visited Maille (185 Columbus Avenue), the French specialty mustard boutique founded in 1747. Pierette Huttner, New York's only Mustard Sommelier explained Maille's history as visitors sampled a variety of unique and distinctive mustards, vinegars and vinaigrettes with complex and bold flavors.
All poured on tap, the group tasted Chablis Mustard, Dijon Originale Mustard with white wine and Sauternes Mustard. Attendees also sampled the seasonal Collection les Jardins Secrets des Chefs in three variants - Mustard with carrot and a hint of shallot, Mustard with olives and herbes de Provence, and Mustard with beetroot and a hint of honey. This collection is described as having "the intense flavor of vegetables and the refinement of herbs from the kitchen garden."
Moving to the fragrance side of the industry, Malin + Goetz was next on the itinerary. Erica Bowman, education director at Malin + Goetz, introduced the family owned and operated apothecary shop to the WFFC.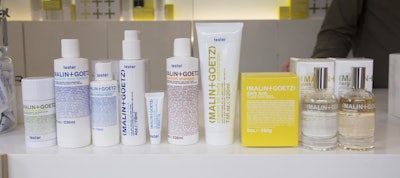 Specializing in face, body, and hair care products for sensitive skin, products are formulated with natural ingredients. The shop also offers fine fragrances such the brand's new Bergamot scent, and candles.
Attendees experimented with the wide selection of products and many were excited about the Eucalyptus deodorant, which is alcohol and aluminum-free and formulated with eucalyptus extract and odor-neutralizing citronellyl.
Lunch was served at Bustan (487 Amsterdam Avenue), a contemporary pan-Mediterranean restaurant that offers an eclectic mix of flavorful dishes. Chef Jose Paulo Cortes prepared a family style feast with multiple appetizers including a selection of homemade mazzetim, Greek salad, chopped salad, roasted beet salad, Taboon roasted whole heirloom cauliflower, Taboon charred octopus, falafel, grilled Merguez (North African sausage), sizzling shrimp, Burrata and homemade focaccia bread. Main course options included lamb terracotta, kebab pita, Merguez Shakshouka (chicken foie gras or lamb sausage with Taboon baked eggs in spiced North African tomato sauce), Taboon whole baked branzino, falafel pita, and mushroom flatbread.  To complete this diverse meal, dessert featured rose water pannacotta, flourless chocolate cake and Turkish sundae served family style.
As if lunch was not enough, the WFFC visited the Treat House (452 Amsterdam Avenue). Inspired by the success of a bake sale, this fun establishment serves gourmet sweets based on the ever popular Rice Krispies Treats.
Guests sampled the classic S'mores and seasonal Mint Julep flavors as Vincent Torres, Treat House store manager, discussed the shop's history, the multiple flavor selection and the store's ability to create customized treats.
Pet Health Store (473 Amsterdam Avenue) was the groups' final destination. This pet store distinguishes itself by carrying only human-grade pet food for cats and dogs consisting of high quality ingredients, additional nutrients and no additives.
James Mousseau, Pet Health store manager, shared the store's mission and discussed how pet foods, flavors and diets are mimicking that of humans.
To view more photos from the WFFC excursion, please visit P&F's Facebook page where you can download and share with your friends and colleagues.