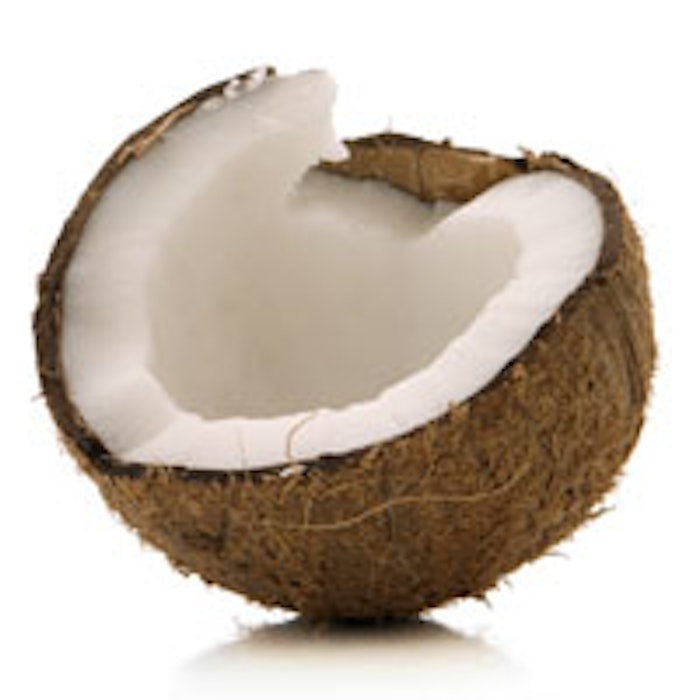 Firmenich announced coconut as its 2016 flavor of the year. According to the company, when coconut water hit the mass market between 2005 and 2008, the world took serious notice and since then, its presence in food and beverages has increased. Since 2010, the number of coconut flavored food and drink products increased by 104%, with an annual growth rate of 20%.
The leading market categories tracked for coconut flavor launches in 2015 (YTD) include juice and juice drinks (13%), sweet biscuits/cookies (10.4%), cereal and energy bars (6%), and yogurt (4.8%). Firmenich noted that the appeal of coconut probably lies in consumers' attraction to the feelings of balance and well-being coconut evokes.
Coconut is a seed whose flavor can be described as anything from toasted and sweet, to creamy and lactonic, to fatty and fresh. As with most perennial favorites, this versatility is part of the appeal. One reason for the variety of coconut flavors is the variety of ways to consume it.
"This new generation of coconut flavors in particular is modern and redefined, adding freshness and giving a different spin to products if compared to the well-established 'classic coconut' flavors," said Gerry Van Gerven, senior flavorist at Firmenich, Thailand.
"Coconut is also a great team player, happy to take a supporting flavor role. Great examples are coconut with vanilla, coffee and chilies, while fruits like pineapple, lychee and mango are great blenders for drink concepts." Van Gerven added that coconut flavors and fusions can also be applied beyond drinks, from bakery and confectionary, to dairy and savory.