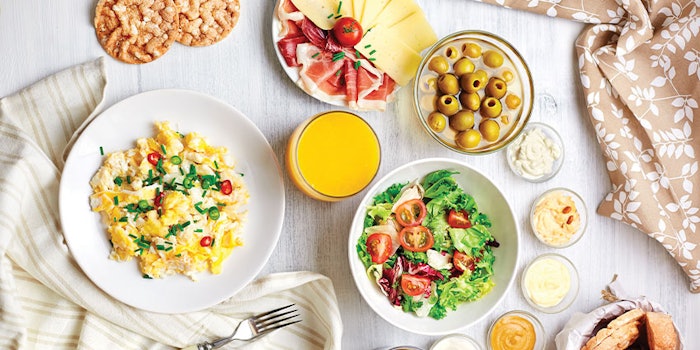 At what point does a trend become a movement?
Over the last few decades, researchers, formulators, manufacturers, marketers, brand leaders and retailers across industries have increasingly asked themselves this question as they addressed the rising consumer desire for wellness in every aspect of their lives, from household products to perfume and beauty to self-care to foods and beverages and beyond.
It has become clear in recent years that this desire for clean, better-for-you and functional products is here to stay.
According to the Global Wellness Institute, the global wellness economy totaled $4.5 trillion in 2018, driven by personal care, beauty and anti-aging ($1,083 billion); healthy eating, nutrition and weight loss ($702 billion); fitness and mind-body wellness ($595 billion); the spa sector ($119 billion); and much, much more.
This is a global movement, with China and India driving one third of wellness market growth through 2023 and China rapidly accelerating to eclipse North America as the sector's top market.
This revolution is reflected in the transformation of the flavor and fragrance industry. While sensory excellence remains at the core, many companies have expanded into adjacent spaces, including nutrition, beauty, aromatherapy, functional technologies for health/well-being, ethical and sustainable alternatives to conventional technologies, and beyond.
This diversification reflects the changing world and has allowed the industry to add a growing array of benefits to brands and consumers, backed by winning flavor and fragrance innovations.
And, as the world and the flavor and fragrance industry evolves, so do we. We are delighted to announce that, in our 46th yeara, we have expanded our brand and mission to better capture the dynamism of today's world.
Introducing: Perfumer & Flavorist+: The Resource for Sensory and Wellness Innovation.
Designed for perfumers, flavorists and allied formulators; researchers; manufacturers; marketers and product developers; and brand leaders, Perfumer & Flavorist+ delivers the latest and best technical, ingredient, business, market and trend insights for a better world—better tasting, better smelling, and better for people and the planet.
In the months to come, along with the flavor and fragrance content you have come to expect from our brand, you can anticipate broadened coverage of emerging wellness innovations and insights, as well as the interface between sensory experiences and well-being.
Everything will taste and smell the same—just better-for-you.
In This Issue
It feels only natural that, for our inaugural issue of 2021, we have an eye to the future. Independent journalist Ryan Daily delves into a technology that feels like it's right out of a sci-fi novel: artificial intelligence (page 44), providing an in-depth look at the ways in which it is being applied by major players across the industry. Without spoiling anything, I can assure you: the robots will not make us obsolete.
ADM's Marie Wright examines the challenges of creating what will no doubt continue to be one of the greatest consumer demands moving into the 2020s: great tasting products made with reduced sugar, fat or salt (page 30).
I had the pleasure of learning more about The Laundress and Aromatherapy Associates' line of wellness-infused cleaning products (page 40); while this duo might be pioneers in this space, it is no doubt one to keep an eye on in the future. Diffusion LLC's Steve Herman discusses the work the fragrance industry has undertaken to assure the safety of products as it moves into the 21st century (page 52).
Also in this issue, MilliporeSigma's Luke Grocholl provides a primer on labeling laws for genetically modified foods (page 34) and Barry Dowles explores majestic cedars (page 24).
Change of Editorship
Along with the "+," however, is a "- ": After a year at the helm of Perfumer & Flavorist+, I have made the decision to pursue other passions, and this issue will be my last.
I have learned a tremendous amount over the past year, and though I did not get the opportunity to meet many of you (just one of the many ways COVID-19 impacted the world in 2020, sadly) I will never forget the warm and enthusiastic reception I received from the industry. Every time I spritz a perfume or sprinkle a seasoning packet, I will think of you all, and fondly.
I extend my most heartfelt gratitude to content director Jeb Gleason-Allured and editor in chief Katie Anderson for their mentorship, inspiring me daily to become a stronger editor and more polished professional; to associate editor Alex Mackenzie, for her tenacity and work ethic, inspiring me daily to become a better supervisor; to associate publisher Paige Crist, for her unparalleled patience and ability to put anything into perspective; and to the rest of the Allured Business Media team, for radiating their Midwestern warmth to this East Coast girl.
I know that whomever takes up the mantle of Perfumer & Flavorist+ will have the support of not only this great team, but an entire industry of flavor and fragrance professionals ready to support them, and lead this publication to great new heights.
Forever yours,
Eden Stuart
Associate Managing Editor
estuart@allured.com
Footnotes:
aPerfumer & Flavorist magazine was formed in 1975 as a spin-off of The American Perfumer, which was founded in 190