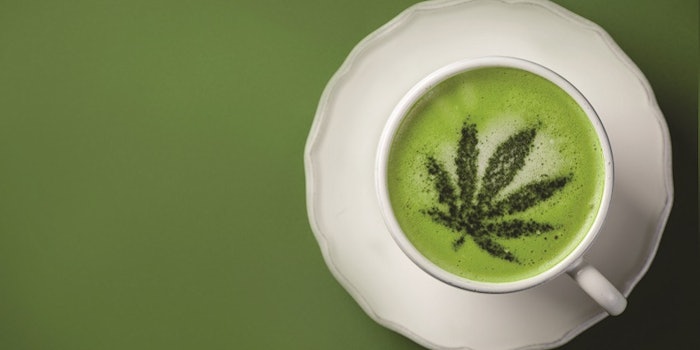 A mainstream cultural phenomenon, cannabis, hemp, cannabidiol and CBD are the latest buzzwords appearing in food, beverage and beauty products. These ingredients are currently the "Wild West" of the fragrance and flavor industry, causing a lot of industry buzz and consumer confusion. There are two well-known species of cannabis; Cannabis sativa and Cannabis indica. Cannabis sativa, named by Carl Linneaus, refers to hemp plants found in Europe and western Eurasia, while Cannabis indica, named by Jean-Baptiste Lamarck, refers to the psychoactive varieties discovered in India.1 Hemp and marijuana are two popular subspecies of Cannabis sativa. Hemp is bred specifically to produce fiber, fuel, oils and seeds and contains cannabidiol (CBD), a non-intoxicating cannabinoid compound. Marijuana on the other hand is bred specifically for its medical or psychoactive properties and contains tetrahydrocannabinol (THC), which is considered a drug and until recently has been illegal in many states.2
Part of the confusion is that consumers do not understand the difference between CBD and THC and what the products being marketed to them contain. To add to the confusion, CBD and THC have the same chemical compound. However, the arrangement of a single atom makes CBD a non-psychoactive compound and THC a psychoactive compound.3 Currently, many of the mass-produced food and beverages on the market are formulated with CBD derived from hemp. Part of the wellness economy, the general consensus is that CBD-infused products provide consumers a general sense of well-being without the "high" effects of THC and can help relieve inflammation, anxiety and even pain.
Numbers at A Glance
According to Arcview Market Research and BDS Analytics, cannabis sales accounted for $9.5 billion in consumer spending. The total size of the global cannabis market is estimated to reach $32 billion by 2022 and $57 billion by 2027a. According to the Brightfield Group, the hemp-CBD market alone could hit $22 billion by 2022b. Greenwave Advisors predicts the CBD industry could reach $3 billion by 2021 and eventually more than $200 billion a year in the U.Sc. Euromonitor International estimates that the legal and illegal global market for cannabis is $150 billion, with the legal market expected to grow 77% of total sales at $166 billion by 2025d.
Innova Market Insights reported a 34% average annual growth in the number of new food and beverage launches with hemp ingredients (global, 2013-2017)e. U.S. introductions saw an average annual growth of 21% over this period with cereal and energy bars as a top growing sub-category of new products with a 24% average annual growth. According to the National Restaurant Association's 2019 What's Hot Culinary Survey, cannabis and cannabidiol (CBD) ingredients are tipped to be one the hottest overall U.S. culinary trends of 2019f. Seventy seven percent of chefs ranked cannabis/CBD oil-infused drinks as the number one trend and 76% ranked cannabis/CBD oil-infused food number two.
Keep Calm and Drink CBD
CBD-infused non-alcoholic and alcoholic beverages, many marketed as functional, are the most popular innovations hitting shelves. THC-infused beverages are also emerging where recreational marijuana is legal.
Recess is a CBD-infused sparkling water range available in Blackberry Chai, Peach Ginger, and Pomegranate Hibiscus flavorsand is "infused with hemp extract and adaptogens for balance and clarity." In February 2019, the brand opened a pop-up in New York City intended to spark creativity by hosting a variety of curated events. Recess has plans to open additional pop-ups in Miami, San Francisco and Los Angeles. Similarly, Mountjoy Sparkling offers a line of CBD-infused sparkling waters available in five flavors: Blackberry, Lemon Lime, Natural, Orange and Peach each containing10 mg of organic CBD. Dram Apothecary, the makers of cocktail bitters and syrups, launched a new line of craft CBD-infused sparkling waters with 20 mg of CBD in three flavors: Gingergrass, Lemongrass and Sweetgrass.
Bimble released a Grapefruit Basil Mint sparkling drink "designed as a natural stress relief alternative." Bimble is formulated with 25 mg of hemp-derived, full-spectrum CBD and is sweetened with raw honey. Honeydrop Beverages and Evo Hemp have partnered to release a line of Honeydrop Cold-Pressed CBD lemonades in three flavors: Revive (Matcha), Relax (Lemon) and Rehab (Turmeric+Pepper). The lemonades are made with 20 mg of CBD and a teaspoon of raw honey. Former Denver Broncos running back Terrell Davis, business partner CEO and cofounder Beau Wehrle, and Megan Bushell COO, are introducing the Defy beverage collection of CBD products in Lemonade, Mixed Berry and Orange Mango varieties, each with 20 mg of CBD. Vybes Mind+Body Function offers a three SKU lineup of CBD-infused beverages available in Blueberry Mint, Peach Ginger and Strawberry Lavender flavors, each with 15 mg hemp CBD.
CannaDrink by Infrastructure Corp. is a line of cannabis-infused beverages including soda, tea and coffee formulated with Naturally Splendid's HempOmegag, a powder created from microencapsulated hemp seed oil. The drinks are zero calorie, non-GMO and ketogenic-friendly. Root Blends and Function Botanicals have collaborated on a CBD-infused smoothie kit. The Root No: 6 Calm Blend – Mind and Body Function smoothie contains 25 mg of hemp-derived CBD, marine collagen peptide, pineapple, spinach, avocado, kale and lime. Willie's Remedy Whole Bean Coffee, by Willie Nelson and his family, is the first product of a new line of CBD-infused products. The coffee is described as a "medium-dark blend with balanced acidity that packs a powerful aroma, with flavor notes of cherry and cocoa" and includes three bean varietals: Castillo, Colombia, and Caturra infused with certified organic full-spectrum hemp oil grown in Colorado. When brewed, each 8 oz cup will contain 7 mg of hemp-driven CBD. Sober Uph, the herbal supplement designed to mitigate the effects of alcohol, will be launching a Sober Up with CBD variant.