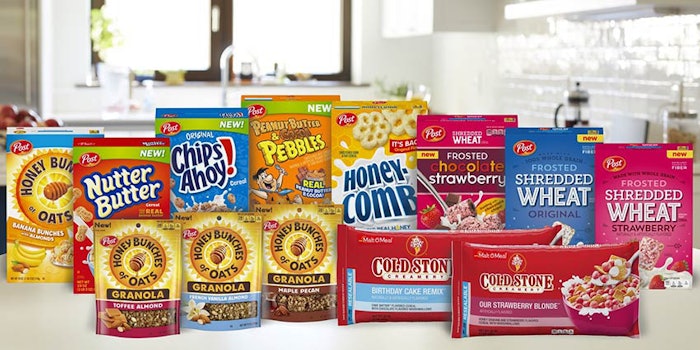 Consider it crunch time—Post Consumer Brands has unveiled its summer cereal lineup.
"We continue to listen closely to our consumers and evolve our brands to deliver some of best tasting cereals available," said Roxanne Bernstein, chief marketing officer at Post Consumer Brands. "This summer is jam-packed with new and delicious additions. June also marks the start of our sponsorship with Major League Soccer where we will take our cereal on the road to grocery stores and soccer stadiums nationwide."
Flavors include:
Malt-O-Meala & Cold Stone Creameryb: A first-time collaboration with the ice cream purveyor, the bagged cereal will come in two flavors—Our Strawberry Blonde (honey graham and strawberry flavored cereal with marshmallows) and Birthday Cake Remix (birthday cake flavored cereal with chocolate flavored marshmallows).
Peanut Butter & Cocoa Pebblesc: A crispy rice cereal with real peanut butter and cocoa (not gluten-free).
Honey Bunches of Oatsd Banana Bunches with Almonds: Including real banana puree infused in granola and banana-flavored flakes.
Honey Bunches of Oats Granola: In three new flavors, including Toffee Almond, Maple Pecan and French Vanilla Almond; sold in zip-sealed bags for freshness and versatility as a cereal, snack or topping.
Poste Shredded Wheat: The classic cereal expands with three frosted flavors—Original Frosted Shredded Wheat, Strawberry Frosted Shredded Wheat and Frosted Chocolate Strawberry.
Post Chips Ahoy!f And Post Nutter Butter cereal: Originally launched in limited release December 2017, the cookie-based offerings make their nationwide debut.
And the return of the original Honeycomb.
 a-f Malt-O-Meal, Cold Stone Creamery, Pebbles, Honey Bunches of Oats, Post and Post Chips Ahoy! are registered trademarks.