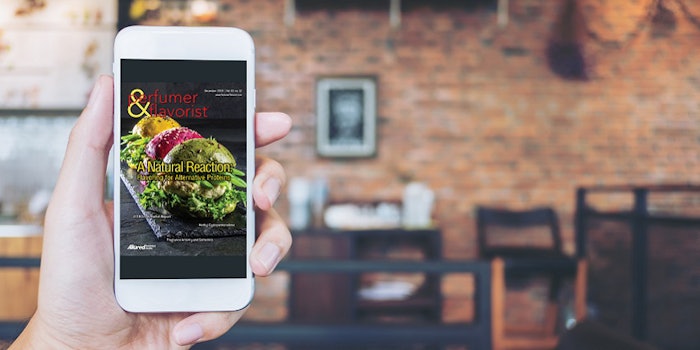 The art of creating flavors and fragrance is an adventure. In the December 2018 issue of Perfumer & Flavorist, we examine the ingredients, processes and muses that go into a flavorist's or perfumer's creation. 
Available in a convenient, easy-to-read digital format, Perfumer & Flavorist's digital edition provides industry and technical insight to the flavor and fragrance industries. Some of the article that you might have missed in the December 2018 issue of Perfumer & Flavorist include: 
Reaction Flavor Solutions – Ancient Chemistry for the Modern World. As alternative proteins continue to drive the green, clean food movement, reaction flavors serve as a functional tool to provide the savory flavors found in cooked meats and vegetables.
2018 The Year in Review: Citrus Oils: Availability and Markets. What do the lemon, grapefruit, lime, orange and mandarin oil markets look like? This article discusses global availability and developing an effective and adaptable purchasing strategy.
The Act of Creating is an Adventure. Jean-Claude Ellena's speech during the 2018 World Perfumery Congress master perfumer workship explores the ethical, philosophical and moral facets of his creative work during his tenure at Hermés.
Delivered monthly, the digital edition of Perfumer & Flavorist is the quickest and easiest way to stay on top of all the flavor and fragrance industry news.