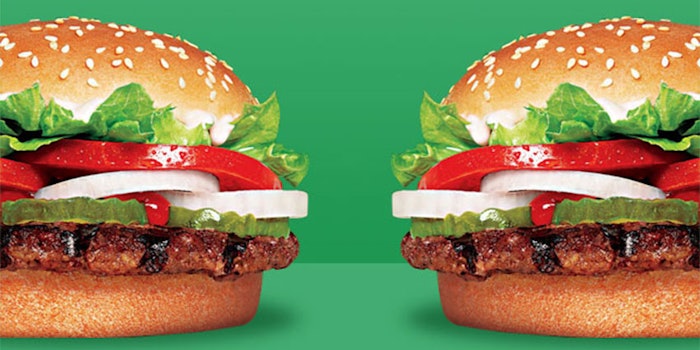 Unilever brand The Vegetarian Butcher announced that it has expanded its successful partnership with the Burger King brand to launch the Plant-Based Whopper in Latin America, the Caribbean and China.
In China, the Plant-Based Whopper has been launched simultaneously in 325 Burger King outlets across Beijing, Shanghai, Shenzhen and Hangzhou, with nationwide roll-out plans from Q2 2021.
Previously: Unilever Aims for €1 Billion in Plant-Based Sales
Mexico, Costa Rica, Colombia, Bahamas, Dominican Republic, Nicaragua, Suriname, Saint Martin and Saint Kitts are the first Latin American and Caribbean countries to add the Plant-Based Whopper, with more markets to follow throughout 2021.
The news comes hot on the heels of launches across the Middle East and North Africa, marking The Vegetarian Butcher's entry into UAE, Saudi Arabia, Oman and Morocco.
Hugo Verkuil, CEO of The Vegetarian Butcher, said, "One year on from the start of our partnership with Burger King, we are delighted to bring our plant-based products into new markets in Latin America, the Caribbean and China. The Plant-Based Whopper has proven a popular and delicious option for flexitarians and meat-lovers across Europe, and we are excited to take this into two new continents."
Previously: Global Plant-Based Market Growth Through 2025
Hanneke Faber, president of Unilever's foods and refreshment division, added, "Our announcement today marks an important milestone in our ambition to reach annual global sales of €1 billion from plant-based meat and dairy alternatives within the next five to seven years. It is also further confirmation of the huge global demand for high quality plant-based foods."
Matt Banton, global head of innovation and sustainability at Burger King, commented: "The Plant-Based Whopper, launched in over 35 countries, has been a real game-changer and become one of the biggest launches in the brand's history. Innovation is one of our core brand values, and this launch is no exception. We are really excited about these additional launches in China and Latin America to provide our guests with this alternate Whopper."