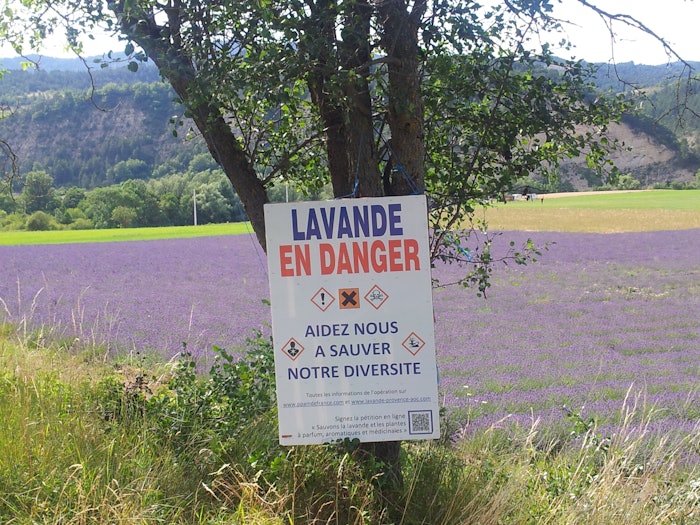 courtesy
Leading up to the return of the EFEO AGM & Conference, the organization's president Manolo Donaire shared a recap of his speech from the most recent Women in Flavor and Fragrance Commerce (WFFC) event as well as the CLP Revision. 
The following words are by Donaire:
It's 90 seconds to midnight. Most of us are familiar with this image (above), which refers to how much time there is left to reach the apocalypse for our planet. With COVID-19, the war in Ukraine, climate change, etc., we are now closer to "midnight" as recently updated in January 2023 from 100 seconds to 90 seconds.
This image fits perfectly with the message I would like to share with you about essential oils under threat. 
We all know that one image says more than a thousand words and this is certainly the case for this picture taken in the lavender fields in summer of 2021 in France. 
It basically says, LAVENDER in ANGER – Help us to Save our Biodiversity

Lavender is NOT a CHEMICAL PRODUCT. No to the European Regulation.
Why this concern? Because of the Chemicals Strategy for Sustainability (CSS, an abbreviation you will become more familiar with) which is part of the EU Green Deal, is inflicting very serious unintended collateral damages on essential oils, threatening the very existence of many. 
I repeat, it is an unintended and collateral damage, taking into account that this new revision was not set up to regulate specifically and more exhaustively essential oils which have been around for centuries and are natural products already under strict regulations through REACH and prior CLP regulations.
It could have a devastating effect on the essential oil industry, and the supply chain upward and downward. Even though this is a European Regulation, this will not only affect essential oils in Europe but also those across the globe. We are not saying either that the Green Deal is not positive or shouldn't be applied.
In fact, essential oils fit perfectly in the Green Deal as most of us would agree that the development of safe and sustainable products by design must help to achieve the objectives of the Green Deal. In that context, the products of natural and renewable origin, by essence sustainable, could play a key role in facilitating the development of a circular and sustainable economy.
The Green Deal, published in December 2019, aims to set the EU on the path to a green transition, with the ultimate goal of reaching climate neutrality by 2050. And one of its core pillars to achieve this objective is CSS, published in October 2020, which aims to better protect citizens and the environment from the most harmful chemicals, and promoting the use of safer and more sustainable chemicals. To achieve these goals, the EU commission is strengthening regulations amongst which:
•CLP Revision: Published in December 2022
•REACH Revision: Expected to be published in Q4 2023
Why is it so important to bring this up? Because, we are now at the stage that the EU Commission has published CLP revision, which is now under scrutiny by EU Parliament and EU Council to be voted by the end of this year thus bringing us back to the image that it is now 90 seconds to midnight.
The most affected countries are obviously the four largest producers of essential oils in Europe, which are Bulgaria, France, Italy and Spain. Bulgari is the largest producer of rose oil with over 80% of global production and largest producer by far of lavender oil globally (approx. 450 tons per year) with over 2,000 farmers involved.
France, being one of the first countries to take actions (signs in the lavender fields) against the new regulation, is largest producer of lavandin oil by far with approx. 2,100 tons per year and over 1200 farmers involved and the second largest producer of lavender.
Not only is it an essential activity for French farmers but also its huge impact on tourism in the region visiting the lavender fields and Grasse, the capital of perfumery, that also joined UNESCO's intangible Cultural Heritage of Humanity. Fortunately, one of the objective of the Green Deal is to preserve Europe's natural capital.
Italy is the largest producer of bergamot oil, which is only grown locally in Calabria region in Europe. Also Sicily is specialized in the production of citrus oils by century old family owned companies. In both regions the production of essential oil is a strong pillar to the rural economy, with very limited alternatives available if these oils would be banned.
Spain is the largest producer of lemon oil in Europe with over 1,000 tons annually and the second largest lavandin producer. Moreover, Spain is the only producer globally of citrus oil only grown in a specific area in Andalucía.  
Spanish Lemon oil is also a perfect example of how an essential oils fits perfectly in the Green Deal as a sustainable and renewable source with the lowest water footprint compared to any other fruit crops, with a net negative carbon footprint due to a huge lemon tree forest of almost 15 million trees, with biodiversity projects where natural predators are used to fight plagues and lower the use of pesticides, with organic plantation, representing over 20% of total production.
All four countries together have quite a large impact on the total production of essential oils in the EU which explains why EFEO have been coordinating advocacy through our board members in each of those countries through local associations, local and national politicians to MEP's and EU Commission to create awareness and support this common cause.
We basically identified four major threats as a result of the CLP & REACH revision:
1. Essential oils would be regulated on the basis of their constituents as opposed to as a whole substance: The European Union wants to qualify essential oils as MOCS (More than One Constituent Substance) under CLP. What does it mean? They look at the molecules of the oil and not at the oil as a whole.
2. The EU wants to move from risk assessment to hazard assessment. the principle of "safe for its intended use" not being recognized. Instead, it means that if one molecule is a hazard and is present in the oil above a specific threshold, the whole oil is considered to be hazardous, which may result in banning the oil. (following the REACH revision).
3. Five new hazard classes added to CLP:
            1. Endocrine disruptors (ED)
            2. Persistent Bio-accumulative and Toxic (PBT): these substances are harmful chemicals that do not break down easily in the environment and are                           especially hazardous for human health and ecosystems.
            3. Substances that are very persistent and very bio accumulative (vPvB)
            4. Persistent, mobile and toxic (PMT)
            5. Very persistent, very mobile (vPvM)
These new hazard classes are commendable and the sector is supporting their objectives to secure consumer safety and environmental protection. However, combined with threat one and threat two, a considerable number of essential oils could be seen as substances of very high concern (SVHCs) under REACH and, without demonstrating their essential use, could be banned because they may contain harmful molecules for the environment or health.
4. The increase in REACH dossier requirements, especially for small volumes: Through the REACH revision, CSS also wants the products in the 1-10 tons category to follow the same tests as the products in the next volume band (10-100 tons). This will be a terrible burden for the SMEs.
In addition, new tests for endocrine disruption and environmental effects are expected from 1-10 tons upwards. Such changes would mean an additional cost of >100K to €400K per substance.
Keep in mind that 85% of the NCS registrations are in the 1-10 tons band and that the testing cost will be a minimum of €200K up per oil.
While the Green Deal and the F&F industry is asking for more and more natural products, these threats may trigger farmers and distillers to stop investing in new crops or different varieties, putting investments and R&D on hold, start looking for other alternatives if any, which will lead to less availability of natural products.  
Last year most of EFEO's advocacy and actions were focused on: Advocacy with EU Commission to achieve modification of CLP. Advocacy from local politicians up to MEP's (EU Members of Parliament) to explain what we were facing CLP revision. Align all stakeholders with the same message stronger and clearer, i.e. to have all four largest producing essential oil countries aligned with each other.
Current Status of Regulations
On December 19, 2022, the European Commission published updated details on its intention with regard to new CLP regulations and how these would impact the essential oil industry.
In this revision, the European Commission created a narrow possibility that essential oils could continue to be assessed as one substance, provided they can submit strong scientific evidence to get a specific derogation on some hazard classes. However, there remains some need for clarification on how this will actually happen. In any case, this will require significant investment to prepare the expected submissions.
The most recent event took place on the April 15, 2023, in the European Parliament, where EFEO organized a scientific exchange hosted by Cristian Busoi, Ph.D., MEP of the European People Party (EPP), chair of the EP Committee of Industry and Research.  
Maria Spyraki, rapporteur of the CLP Revision, introduced the session, which was moderated by Michele Rivasi, MEP, Group of the Greens/European Free Alliance. Also participating were Sylvain Bintein team leader REACH and CLP, DG Environment, European Commission as well as Hans Ingels, head of unit F2, DG GROW, European Commission which, amongst other things, takes care of SMEs.
It was the opportunity to listen to scientific experts who spoke about Essential oils being different from the sum of its molecules and therefore needed to be considered as a substance and not as a mixture of constituents. 
The scientific speakers were:
    • Xavier Fernandez, professor, Chemistry of Natural Products, University Côte d'Azur who explained his experience in analytical chemistry demonstrating that an essential oil is not the sum of its constituents
    • Patrice Rat, professor of Toxicology, CNRS, University Paris Cité who spoke about essential oils and endocrine disruptor—and how molecules of concern taken separately or in an Essential oil behaved differently.
    • Jean marc Giroux, toxicologist, doctor of Pharmacy, specialized in essential oils (an essential oil is not a mixture of molecule but one substance that reacts often differently than its constituents.)
    • Graham Ellis toxicologist, head of regulatory research and innovation at Firmenich, as well as board member of EFEO (Unique property of essential oils and experience within REACH).
The MEPs seem to react favorably but still confirmed that it needs to be backed up with science. EFEO will continue the dialogue with the MEPs in Brussels to find and agree on a satisfactory solution in the frame of the Green Deal. Even though we all support a clean and safe environment, it is of utmost importance to be united and send the same message to mitigate the non-intended collateral damage on essential oils from the EU proposed regulations/ directives. EFEO supports essential oils to be regulated through relevant and proportionate measures that guarantee consumer safety and environmental protection.
EFEO Asks
· To take into account the particularities of essential oils, within the framework of current regulations, in consultation with the National and European authorities.
· To consider essential oils as a natural entity and not as a sum of chemicals.
If the asks of the sector are not heard, EFEO recalls that the consequences will be dramatic, because a large number of essential oils could disappear from products intended for consumers due to unsuitable assessments.
Final Takeaways
· Essential oils are an agricultural product and not a synthetic chemical composition.
· Essential oils fit perfectly in the Green Deal.
· Avoid a negative impact on Essential oils due to possible counterproductive new regulations.