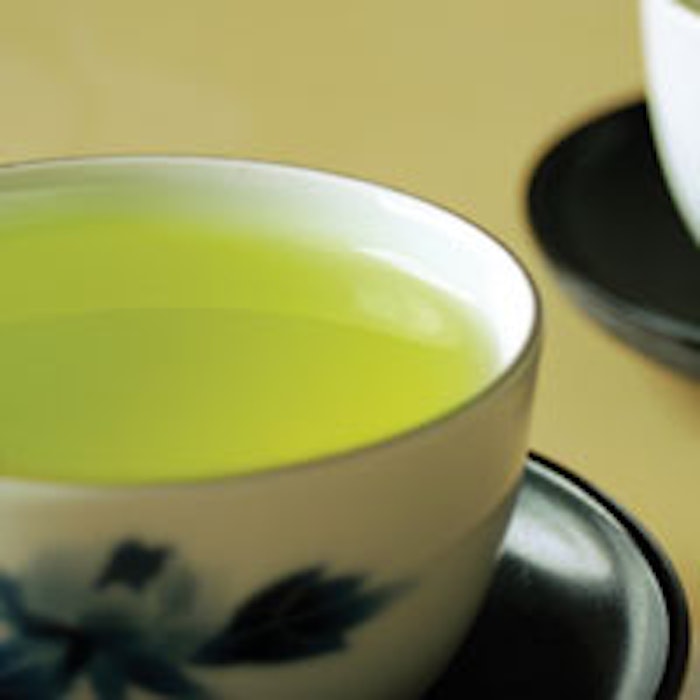 Patent Picks are chosen by the editors from publicly available sources. Today's highlight is an approach to extract green tea to draw out its characteristic flavor.
Green tea extraction implement
WIPO Patent Application WO/2015/151382
Publication date: Oct. 8, 2015
Assignee: Tomorrow College Co. Ltd.
Disclosed in this patent is a drip-type green tea extraction implement that brews green tea. The extraction implement main body is funnel-shaped and filtered, and regulated via a means that forcibly regulates the extraction.
For example, a plurality of spaced hot water passage holes are formed at the side surface of the filter. Tea leaves do not pass through the holes but the holes are sufficiently larger than the pores of a filter paper.
The tea extract liquid preferentially passes from the filter through the passage holes, which in turn determine the rate of the extraction. By adjusting the design of the number and size of the passage holes, it is possible to subtly shorten the extraction time while the steaming function of the filter is sufficiently carried out.
According to the inventors, this design makes it possible to draw out the characteristic flavors of green tea as well as its bitterness and sweetness in a balanced manner.