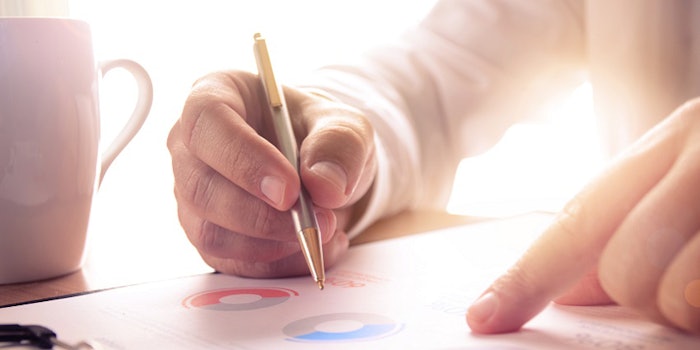 International Flavors & Fragrances Inc. (IFF) has reported its financial results ending Mar. 31, 2019.
For the quarter, the company posted $1.3 billion in net sales, a 39% increase in sales from $931.0 million in 2018. On a combined base, currency neutral sales improved 3%, excluding the contribution of acquisitions and divested businesses.
"Our first quarter results were in line with our expectations and reflect strong progress in the company's transformation following the Frutarom acquisition," said Andreas Fibig, IFF Chairman and CEO. "In the first quarter of 2019, we achieved solid sales growth across all three of our divisions and maintained strong profitability levels despite the continued higher raw material cost environment. On a consolidated basis, the combination of our legacy business performance, plus the addition of Frutarom, yielded double-digit sales and adjusted operating profit growth.
Taste and Scent Segments
For its scent business unit, the company saw sales increase 1%, or by $6.4 million, to $488.4 million, while currency neutral sales improved 4%. Leading the growth in the segment was the company's fine fragrances business, which saw double-digit growth. IFF's consumer fragrance business grew by mid-single digits, led by strong growth in home and fabric care, while fragrance ingredients were challenged by higher raw material costs and volume declines. For the segment, profits decreased 8% on a reported and 3% on a currency basis, as the benefits from cost and productivity initiatives were offset by input costs and unfavorable prices.  
For its flavor business, the company posted $444.6 million in sales, a 1% or $4.4 million decrease on a reported basis. For the quarter, the performance was driven by mid-single-digit growth in Greater Asia with India and Indonesia growing at an accelerated double-digit rate. EAME regions also saw mid-single-digit growth led by Africa, Middle East and Western Europe markets, while North America markets saw year-over-year improvements led by TastePoint. For the segment, profits decreased 3% on a reported basis and 1% on a currency neutral basis, as volume growth and benefits from productivity initiatives were offset by unfavorable raw material costs.
Frutarom and the Future
Separating out IFF's Frutaom division, the business saw sales total $364.4 million for the quarter with currency neutral sale growing by 3%. Growth for the segment was driven by its taste category, which saw double-digit gains in North America and increases in savory solutions. This growth offset declines in F&F ingredients and natural colors. The segment contributed $29 million in profits for the quarter or $68 million excluding amortization.
Related: IFF's Frutarom Division Acquires Leagel
"We are executing well against our integration roadmap. For those businesses where we have aligned our go-to-market approach with IFF – North America Taste and IBR – growth is very strong, increasing double-digits. We are also seeing great progress from procurement synergies and are well underway in terms of our manufacturing optimization plan. For 2019, we are confident that we will achieve our $30 to $35 million cost savings goal as our current run-rate savings are already in excess of this target," said Fibig. "Looking forward, we expect sales growth and profitability to improve in the second half of the year. We remain focused on executing our strategy and integrating successfully, and by doing so, we have reiterated our full year financial guidance."