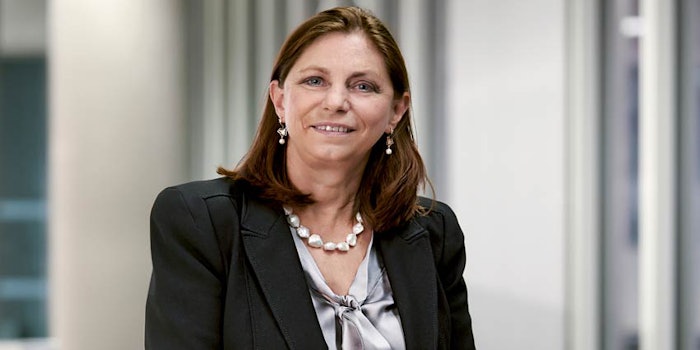 In an exclusive interview with Perfumer & Flavorist, Geneviève Berger, chief research officer, Firmenich, shares her insight on improving global sanitation and hygiene through malodor technologies, exploring sustainable initiatives for a greener planet and more.
Perfumer & Flavorist: How has your multidisciplinary background influenced your current role?
Geneviève Berger: I have always been passionate about learning and pushing the boundaries of science to improve people's lives. This drive led me to explore the fields of chemistry, physics and biology which I used primarily to advance my work as a doctor. It also enabled me to work in many different organizations, ranging from hospitals, to governmental agencies, including one of the world's largest research organizations, the Centre National de la Recherche Scientifique (CNRS) with over 26,000 researchers, all the way to the private sector with Unilever and most recently Firmenich.
I have always been passionate about learning and pushing the boundaries of science to improve people's lives.
Based on my background, I constantly seek to innovate by connecting multiple fields of science and organizations together to enter new territories. I deeply believe that innovation takes place at the edge of multidisciplinary thinking, that's where the magic always happens! The hallmark of my career has always been to drive cutting edge and multi-disciplinary science in order to make a positive difference in people's quality of life.
Chemistry is the foundation of our work, but materials science, biotechnology and cell biology are all increasingly important. As I said, innovation happens by bringing these fields of science together to create something that hasn't been done before.
P&F: How are you planning on leading scientific research in your current role?
Through Firmenich's expertise we do it in a number of ways, for instance, I am committed to further differentiate our flavor and fragrance ingredients portfolio, which is the broadest and finest of the industry and cuts across synthetic, natural and biotech molecules. Our goal is to integrate sustainability within our long term innovation programs aiming to shape new game-changing ingredients for both perfumery and flavor palettes.
Science plays a key role. For example, we are working on developing a new generation of white biotechnology ingredients, created from renewable sources. After more than 10 years of research, in 2014, we launched Clearwood1, a white biotechnology, fragrance ingredient, which was recognized as an industry-breakthrough. Recently, it won the Innovation Award from SEPAWA, one of our industry's largest and most prestigious associations in Europe.
Building on this breakthrough, we are confirming our leadership in the area of white biotechnology with the production of AMBROX2, using the same sustainable platform. This innovation will allow Firmenich to sustain the increasing demand of AMBROX by assuring a long term and sustainable production process.
P&F: 10% of annual turnover goes towards R&D - what areas of research are intriguing to you in the industry?
One area is hygiene and sanitation. It is estimated that 2.5 billion people lack access to clean and safe toilets. Poor sanitation, lack of hand washing with soap and limited access to drinking water are the main cause of 760,000 deaths of children under five years old.
Addressing the challenge of the world's hygiene and sanitation issues, and simultaneously building on support from the Bill & Melinda Gates Foundation through its 'Reinvent the Toilet Challenge', Firmenich scientists are working on malodor-counteracting technologies to remove bad smells from toilets. This encourages poorer populations to use toilets more as opposed to public spaces. This in turn contributes greatly to reducing the spread of epidemics and child mortality in particular. We estimate we positively impacted the lives of more than one million children between 2010 and 2015.
Another is health and nutrition. Through our taste modulation platform we aim to reduce sugar, salt and fat while keeping an equal taste profile. This ground-breaking technology platform addresses health challenges such as obesity and diabetes.
P&F: What do you think is the responsibility of a company as influential as Firmenich in this evolving market?
If nine billion people are to live well on our planet by 2050, we must explore new sustainable lifestyles. I deeply believe that innovation will occur by partnering across ecosystems for greater impact. This means that companies need to join forces across their value chain and partner with all their multiple stakeholders and like-minded visionary experts to move the needle. Beyond transforming products, we must consider changing related infrastructure, technology, business models and individual behaviors.
If nine billion people are to live well on our planet by 2050, we must explore new sustainable lifestyles.
To fully undertake this complex journey, Firmenich co-chairs with P&G of the WBCSD Sustainable Lifestyle Cluster. This organization is focused on uncovering the innovations that will enable companies to make sustainable lifestyles possible in the future.
In collaboration with governments, peers, NGOs and communities, we are committed to co-creating and acting as catalysts of innovative solutions to safe-guard our planet, while enabling our business to thrive.
1 Clearwood is a registered trademark of Firmenich
2 AMBROX is a registered trademark of Firmenich