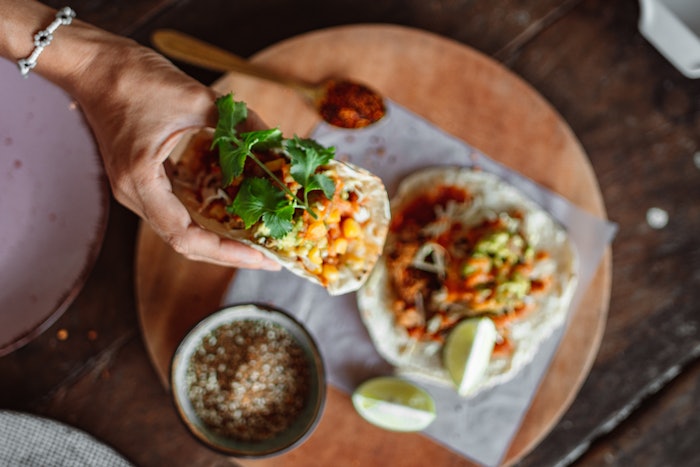 d-3-Carene
Source: Vigon
FEMA# 3821, CAS# 13466-78-9
Naturally occurring in: Basil, bergamot, blood orange, cassia, cinnamon, citronella, curry, lavandin, lavender, lemon, lime, mace, mandarin, marjoram, nutmeg, orange, oregano, black pepper, petitgrain, rosemary, tagette and thyme.
Odor: @ 1%. Green, terpenic, herbal, peppery, woody, fresh, piney, dissipates pretty quickly.
Taste: @ 5 ppm. Light green citrus, bright, very slightly waxy, woody, tongue tingle, terpenic, piney and spicy.
Taste: @ 15 ppm. Citrus, lime, herbal, woody, waxy, pepper, metallic, piney, spicy.
Possible applications: This terpene works very well in citrus profiles, most especially in lime. Following that thought process, the panel sees also gin (or juniper) and margarita profiles as being appropriate. At the higher levels, the panel felt that this would work in black pepper, green bell pepper, jalapeño, rosemary, marjoram and thyme flavors.
Vigon: www.vigon.com
2-(3,7-Dimethyl-2,6-octadienyl)cyclopentanone
Source: Bedoukian
FEMA# 3829, CAS# 68133-79-9
Not found in nature.
Odor: @ 1%. Fruity, pulpy/pit (stone fruit), cherry, anisic, sweet, candied, slightly green, juicy, tropical, heavy and waxy.
Taste: @ 5 ppm. Woody, green, fatty, fruity, "canned" note, tropical, lactonic, waxy fatty fleshy.
Taste: @ 15 ppm. Very high at this level, green, fruity, fatty, lactonic, juicy, "canned" note.
Possible applications: Bedoukian has fondly named this material Apritone which the panel has agreed with basically. We all felt that this interesting material brings the stone fruit character to profiles and we would also add mango to that list. Other sweet applications we thought of included berries, rhubarb, pineapple, apple, papaya, guava and pear.
Bedoukian: bedoukian.com
Organoleptic Evaluation Panelists

Bill Aslanides, Senior Flavorist, Synergy Flavors, Inc.
Deborah Barber, Senior Flavorist, FONA
Nicole Hernandez, R&D Manager and Senior Flavorist, FlavorChem
Christina Hook, Flavorist, Bell Flavors and Fragrances
Judith Michalski, Senior Flavorist, abelei flavors
Andrew Petrou, Flavorist, Savory, Bell Flavors and Fragrances
To explore the entire article, visit Perfumer & Flavorist+'s May issue.