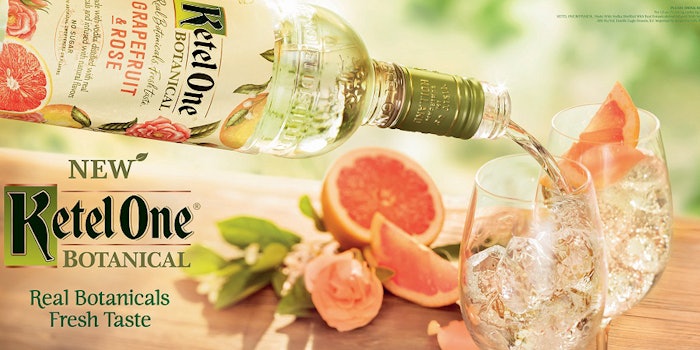 Ketel One has announced the launch of Ketel One Botanical, a line of three botanical-infused vodkas.
Citing a Nielsen report that 67% of American prioritize health or socially-conscious food purchases, Ketel One set out to create a more health-conscious alcoholic beverage. The beverages are distilled with real botanicals and infused with natural fruit and botanical essences. Additionally, the beverages are made with 100% non-GMO grain, no artificial flavor, no added sugar and no artificial sweeteners. Currently, the line of beverage is available in peach and orange blossom, cucumber and mint and grapefruit and rose flavors.
"We've created a fresh-tasting, delicious new spirit that honors our family's legacy while reflecting the progressive values of today's conscious consumers," said Carl Nolet Jr., president and CEO of Nolet Spirits USA. "People care deeply about what they put in their bodies, which is why we care deeply about what goes into every bottle."