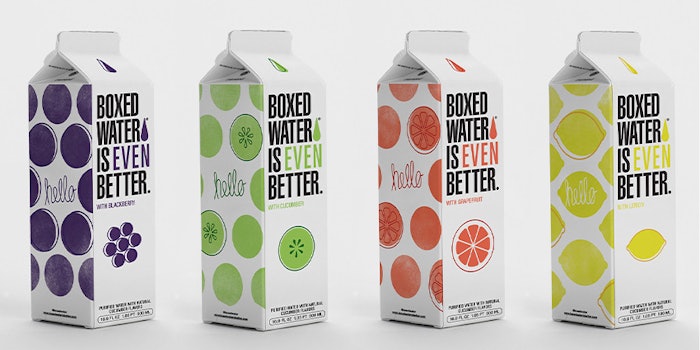 Boxed Water Is Better has announced the launch of its flavor line with four naturally and subtly flavored varieties.
Related: Dunkin Releases Purple Sugarplum Macchiato Flavor
The line includes, Lemon, Blackberry, Cucumber and Grapefruit which will be available in the first quarter of 2021.
All four flavors will come in the standard 500 ml size and be available online and at select retailers alongside the brand's current products: 250 ml, 330 ml, 500 ml and 1L sizes.
Boxed Water will continue to institute its One Million Trees campaign with the new flavors, where consumers are encouraged to post a picture of Boxed Water on social media with #BetterPlanet, and Boxed Water plants two trees with the National Forest Foundation. 
Boxed Water CMO, Robert Koenen said, "Consumers who support our mission and love our design have passionately called for more flavors almost since our inception, and we are listening. Our flavor launch comes at an exciting time, when consumers are looking for healthy, tasty and eco-friendly options to kick off 2021 and support a better planet.  While everyone is talking about the new normal we are working towards a re-newed normal."