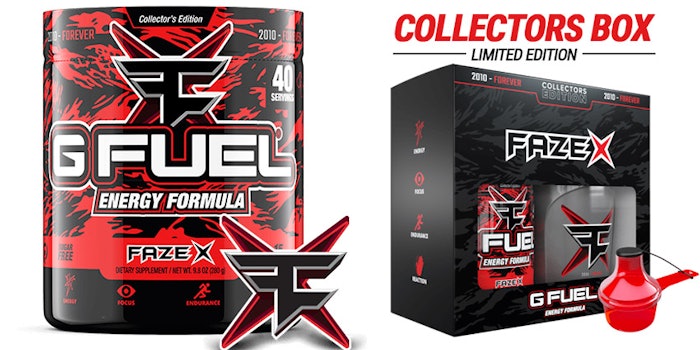 G Fuel has partnered with FaZe Clan, a gaming organization, to release a G Fuel FaZe X flavor for Faze Clan's 10-year anniversary.
Related: BeatBox Beverages Adds New Flavor
The flavor, which is described as a mysterious icy flavor, is sugar free and contains 18 fruit extracts as well as antioxidants.
The newest flavor joins G Fuel's Faze Clans seven other flavors such as Fazeberry and Sour Blue Chug Rug. 
The limited edition flavor is available in a 9.8 oz container for $35.99 as well as a collectors box for $39.99.
G FUEL founder and CEO, Cliff Morgan, said, "The past eight years of our partnership with Faze Clan, and riding with them on their journey from being a YouTube sniping team to now a worldwide gaming powerhouse, have been nothing short of amazing. We are proud to continue to expand our eight-year partnership and release our eighth co-developed flavor together. Our fans are in for a real surprise with Faze X."
"We continue to reinvent the partnership game with our title sponsor G FUEL with the official release of the Faze X flavor created to celebrate ten years of Faze Clan. The Faze X flavor is dropping in the midst of our Faze 5 recruitment challenge, which drew over 200,000 applicants. The top five winners will not only become Faze Clan members, but they'll also take home a $20K cash prize and a sponsorship agreement provided by G FUEL. This is an incredibly exciting time for both brands," said Faze Clan CRO Jeff Pabst.