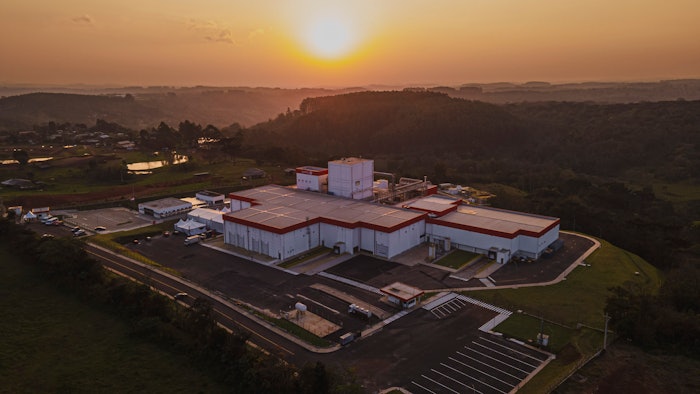 courtesy of Symrise
Symrise inaugurated the Pet Food Palatants Production Facility in Brazil, in Chapéco (SC), in late August 2023. The state-of-the-art production plant will produce palatants for cat and dog food. 
With an infrastructure of more than 10,000 square meters, the factory stands as the largest of its kind in Latin America and forms the biggest site of Symrise for pet food ingredients globally. It is said to feature advanced technologies with full automation delivering high operational efficiency.
Fernando Putrino, General Manager Pet Food at Symrise Brazil, "We faced the challenge of constructing an extraordinary factory capable of serving the dynamically growing local market and also the global market. Today, we celebrate the opening of this site, a milestone achieved with the dedication of our passionate team and the strong support of the local government. Together, we can showcase the capabilities of the Brazilian industry to the world!"
Gonzalo Rodriguez, General Manager Pet Food at Symrise in LATAM stated, "I feel very honored to host such an event. It represents a great opportunity to illustrate our leading position in the industry. It builds on a solid foundation that comes from a combination of more than 40 years of experience and our passion for manufacturing palatants."
Rodriguez added, "Thanks to the visitor corridor we built above the plant, we can show the production process from an exclusive observation point. Also, we can tell the visitors what happens before starting to manufacture a palatant. Many people experience for the first time that – before entering the market – we test a palatant 150 times to ensure its performance! Also, they can learn here that we evaluate our new products on their environmental impact in seven categories. This enables us to determine the best formulation to comply with our commitment to lower our environmental footprint."