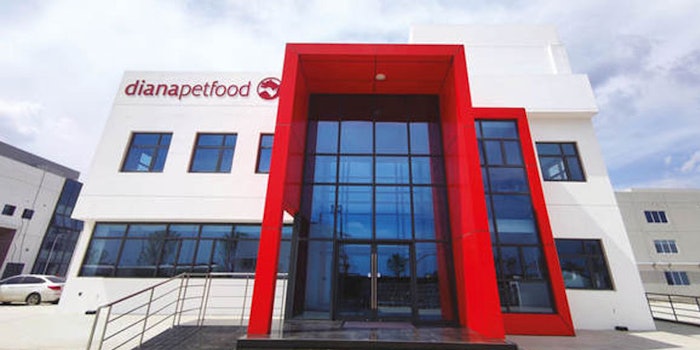 Diana Pet Food has announced the opening of a new factory in Chuzhou, Anhui Province, China. It is the first Diana Pet Food site in Asia Pacific to feature a spray dryer and a measurement center for pet food palatability, making it a unique site on the continent for the company.
Related: Symrise Invests in Pet Health Company Swedencare
Diana Pet Food will offer an enlarged portfolio of powder products and address the growing needs of the pet food market in APAC. It will also allow the company to act more independently in the production of those products by managing the supply locally, and to exert optimal control of products' quality and food safety. The site will produce its palatability enhancers sold under the brand SPF and health and nutrition solutions sold under the brand Vivae. The land surface of the new facility exceeds the old facility twelve times, which was also located in Chuzhou. The surface of the new building itself covers an area 20 times bigger than the previous site.
Another feature to strengthen the local presence on the market includes an expert measurement center called Panelis. It leads as a worldwide expert in pet food palatability measurement providing its clients with studies on cats and dogs' feeding behaviors and preferences. Panelis also delivers insights about owners' perception of their pets' feeding experience.
The facilities bring one more benefit. They entail high standards of environmentally friendly design and processes. This goes in line with the Chinese tradition of environmentally friendly construction and the sustainability approach of Diana Pet Food. The company is embedding sustainable measures along its entire value chain.
Bertrand de Launay, Diana Pet Food president, said, "This site marks a turning point for Diana Pet Food in APAC: Our investment in China indicates the beginning in our journey to structure and strengthen our presence in the area to meet the growing demand of this highly dynamic market."

Alain Symoens, General Manager of Diana Pet Food in APAC, said, "We detach the design of our industrial footprint from random events (such as Covid-19, or any other supply chain events). As they would happen anyway during our customer relationship journey, our new plant shows and confirms the efficiency of Diana Pet Food model and our motto "the closer, the better."
Want to know everything going on in flavor & fragrance? Sign up for P&F+'s newsletter. You can also follow along on Instagram and LinkedIn.