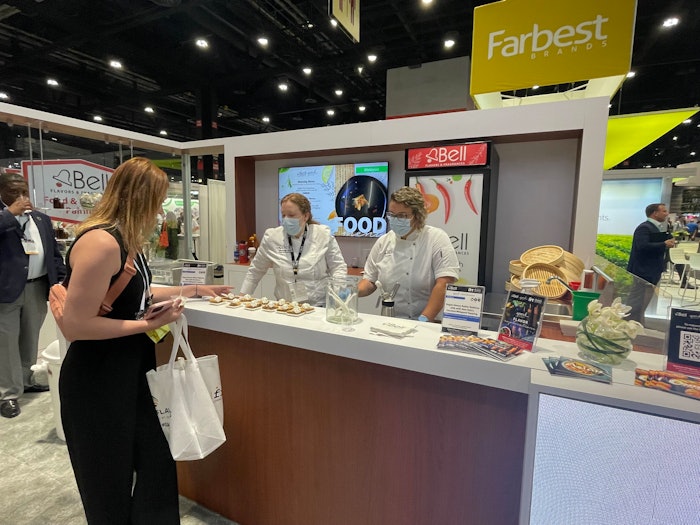 IFT First was held in Chicago, IL, from July 10-13, exploring the latest in food innovation. The event held an in-person as well as a virtual option for attendees. 
Related: Transcendent Taste: Introducing Flavorcon 2022
I arrived on day one, July 10, to walk the showroom floor and take in the new tastes and smells. In terms of running themes, plant-based alternatives and functional beverages were two of the most prevalent focuses.
ADM showcased a line-up of both plant-based and functional flavor options at its booth. I also had the opportunity to sit down with Sam Minardi (vice president, Marketing, Global Carbohydrates, Oilseeds & Ag Services) to discuss the offerings. One of which is a plant-based vanilla latte cold brew made in alignment with plant-based lifestyle and sustainability trends. Minardi spoke to ADM's "field to fork" philosophy, and how the company is involved every step of the way leading up to customer experience. More on that to come.
Bell Flavors and Fragrances joined in on the culinary plant-based offerings with bites including a vegan pork dumpling with a sambal chili crisp oil, a vegan honey butter baklava with non-dairy coconut whipped topping as well as smoked cherry-flavored dark chocolate-covered peanuts and mesquite fruit-flavored milk-covered coffee beans. 
Givaudan highlighted its range of botanical extracts for energy, relaxation and mood for developing on-trend functional beverages. As well as plant-based alternatives, from dairy, meat and seafood alternatives to clinically proven extracts.
More details on booths and event offerings to come.
During my exploration, I ran into two previous Flavorcon speakers, ADM's Marie Wright and Campbell Soup's Paul Riccardi. Be sure to pre-register for Flavorcon 2022 to see the list of speakers and sessions for the upcoming two-day conference in Cincinnatti scheduled for November 9-10.
>>> Pre-registration is Now Open for Flavorcon 2022. <<<
Flavorcon is a global, interactive conference designed for flavorists, product developers, R&D leaders, food scientists and consumer packaged goods professionals designed to support sensory innovations and better-for-you breakthroughs for the flavor, food and beverage markets.
Want to know everything going on in flavor & fragrance? Sign up for P&F+'s newsletter. You can also follow along on Instagram and LinkedIn.