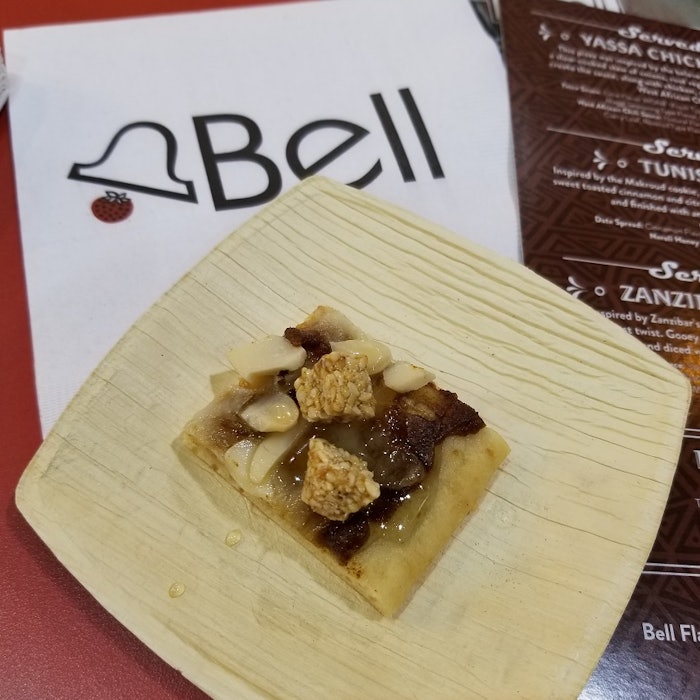 In the weeks leading up to the 2019 Institute of Food Technologists (IFT) conference, which took place in New Orleans, Louisiana, the global supply chain was rocked by several political and economic stories. On May 24, 2019, British prime minister Theresa May announced her plans of resigning, setting up tougher Brexit negotiations with consequences to the global supply chain. Across the pond, the Trump administration raised tariffs on $200 billion in Chinese imports, including many important F&F ingredients. While these stories seem removed from the world of food and flavor, the impact from increasing global tariffs combined with threats of global warming and other ecological disasters pose some of the biggest challenges both industries have ever faced.   
On June 2-5, 2019, food industry experts, scientists and professionals met to discuss a path forward, balancing the challenges and embracing the opportunities facing the food and flavor industries. During the event, more than 17,000 attendees from across the food and flavor supply chain represented over 90 countries. More than 1,000 exhibitors participated in four days of education, insight and networking. While Perfumer & Flavorist was unable to stop by every booth or session, here is a recap of what we saw from the 2019 IFT.  
Addressing the Citrus Dilemma  
It goes without saying the citrus market has faced many challenges over the past couple of decades, from natural disasters to greening. To discuss issues facing citrus, a panel of experts shared their insight on the topic and presented possible solutions for the future.
Moderated by Ji-Zhou Dong, senior principal scientist at PepsiCo, the panel of experts included Jinhe Bai, Ph.D., research chemist for the USDA-ARS HRLa; Anne Plotto, Ph.D., research plant physiologist at the USDA-ARS; Xiaofen Du Ph.D., assistant professor at Texas Woman's University; and Johannes Kiefl, Ph.D., manager of R&T flavor division for Symrise. During the discussion, each expert shared their insight and provided clues to solving the citrus dilemma.
Starting the conversation, Bai discussed the decline of citrus production in the United States. Noting that California and Florida are the two largest providers of citrus in the United States, he went on to detail the dramatic decline in citrus production in Florida. While California citrus has been largely unimpacted, Florida was hit by three hurricanes in 2004 followed by citrus greening development in 2005. While citrus greening doesn't outright kill the tree, it lowers the quality of the oranges that are produced, making them more bitter.
Following Bai's presentation, Plotto continued the conversation with her insight into Huanglongbing (HLB), aka citrus greening, and discussed its impact on flavor. Since Florida produces 90% of U.S. orange juice, the first signs of citrus green were taken very seriously. 
"It spread very quickly. It first was introduced to the Dade county in south Florida, and very quickly spread. By 2011, all the counties producing citrus were infected by greening," said Plotto. "It spread like wildfire. Why? Because it is a bacterium … that can't be cultured, but nevertheless we have a DNA signature for identifying its presence in the tree and juice. That bacterium is being transmitted by insects."
To test how HLB impacted the taste of orange juice, Plotto and researchers from the department of citrus at the University of Florida devised a test to analyze the chemical and flavor differences between healthy and unhealthy fruit. They separated healthy fruit, fruit with HLB but didn't show signs of the disease (HLB non-symptomatic) and fruit with clear symptoms of HLB (HLB symptomatic) and created juices of each one. Researchers analyzed each juice's sugar acidity, flavonoids and volatile chemicals followed by a sensory panel evaluation. During the sensory panels, participants didn't find a noticeable difference between healthy and HLB non-symptomatic juices; but, they noticed differences with the HLB non-symptomatic juice. They noted tingling, metallic, bitter, sour, pepper and musty taste sensations. In the analysis, they found that the bitter was due to a higher concentration of limonene in the juice and less sugar acid.
Related: Givaudan Donates $3.5 Million to Protect Citrus Collection
While scientists and researchers are still trying to solve the citrus greening dilemma, many companies are looking for citrus alternatives. In the following presentation, Du spoke on one such ingredient – calamondin. During the presentation, Du shared her insight into this ingredient and demonstrated how it can be used as the building blocks for a citrus flavor. While not used as frequently as oranges, lemons and limes, this citrus fruit grows in tropical and sub-tropical regions like southeast Asia (Japan, China, India and Indonesia). Not ideal for regular citrus juice, calamondin is generally used as a drink ingredient or can be distilled for essential oils. Major volatiles in the fruit includes terpene aldehydes and esters. To determine the ingredient's flavor attributes, Du and her team at Texas Woman's University conducted sensory tests with a trained panel. During the panel, the fruit was described as having juicy, very sour and astringent tastes, while the smell featured fresh, green, juicy, peely, mandarin and grapefruit notes.
Wrapping up the conversation on citrus, Kiefl shared his insight on sourcing citrus flavor ingredients and biotech. While citrus materials have traditionally been created from citrus plants, many citrus materials can also be developed from other sources such as beet sugar. Since citrus crops have been adversely impacted by natural disasters, greening and other factors, sourcing citrus materials from non-citrus ingredients and biotech processes provides an productive alternative, while also meeting the need for natural and organic demands. During his talk, he explained that citrus peels, which are either discarded from orange juice product or used for other citrus products, can be used for biotech. Citrus peel sugars can be converted to ethanol through fermentation or can be used to create pectins.
6 Ways to Build Trust With Consumers
As the flavor and food industries address the raw material crises, like citrus supplies, the industries are also challenged with facing evolving consumer demands. As consumers increasingly scrutinize labels and investigate food ingredient safety and origin, they are increasingly demanding their products to be cleaner and more natural. At the same time, information from social media, the news and even fake news are competing for consumers' attention for factual content. To discuss this and how companies can build trust with their consumers, David Lundahl, Ph.D., CEO of InsightsNow, and Greg Stucky, chief research officer at InsightsNow, shared some insight on the IFTNext stage.
"One of the questions we asked [all consumers] was 'how much trust do you have in the food system that we have today'… Only 40% agree that they have trust in the food system that means the vast majority of our clean label enthusiasts and general populace don't trust us," said Stucky.
During their talk, they traced the cause of this mistrust and where misinformation in the food industry might be coming from. Both Lundahl and Stucky agreed that a good chunk of misinformation comes from social media. Lundahl went on to share the story of one small company falsifying the ingredients that went into its cheese products. Despite the FDA filing charges against the company and shutting down the illegal operation, major news outlets ran stories claiming that wood in parmesan cheese was a widespread practice.  
"Suddenly, the food industry was putting wood chips in cheese. Then the Food Babe and other groups of bloggers got involved and suddenly all of social media was lit up," said Lundahl. "This shows how fast information in our society today can spread. Information that can be true or not true."
While news can spread quickly on social media, it also can provide an opportunity for brands to communicate with their consumers and tell its story. Lundahl gave the example of Chobani. From its launch in 2008 until 2011, the brand focused heavily on social media and blogging and went from zero market share to approximately 13% of total market share and became the number one yogurt brand in the United States. Just as Chobani leveraged social media to communicate with consumer, food and flavor companies are compelled to do something. By using the channels that consumers are readily getting their information from, companies can make a dent in the misinformation that is out there.
Related: [Podcast] Creating Clean Tastes With Dave Pirazzini
At the end of the conversation, Lundahl turned the conversation from observation to helpful tips in creating clean label products and communicating with consumers. While most of the tips were focused on the food industry as a whole, some of the same tips can be incorporated into flavor development. The six tips included:
Review before taking action. Before tackling a brief, review the whole picture, looking not only at the target consumer but what competitors might have already created. Lundahl suggested by looking at other products' ingredients as a source for innovating differently.
Listen to your consumer advocates. Whether it's a Facebook fan or a segment of consumers that you are trying to reach, listen to your consumer advocates. By listening to the demands of fans is a sure-fire way of creating a successful flavor or product.
Co-create with your consumer advocates. Often flavorist or product developers spend their time in the lab creating, trying to create the next great-tasting product. However, Lundahl urged scientists and flavorist to step out of the lab and talk to real consumers. This way they can understand their consumers more directly.
Co-design with your advocates. In addition to co-creating and brainstorming food product or flavor ideas, co-designing products take the ideas and builds from them. Partnering with advocates in the design of products makes them feel part of the process and that their needs are being addressed.
Rapidly get products into markets. Instead of investing money into one release and banking on a hit, targeted test marketing can provide insight into what works and what doesn't. Additionally, it might expose consumers who might feel alienated.
Build trustful communication. While flavorist can't divulge all the details about their job, flavorist and food developers still can share their science knowledge in ways with the general populace. With social media and digital media, flavor and professionals can share their insight with consumers in a way that wasn't previously possible.
Tastes for Our Feline and Canine Friends
As flavor and food companies try to diversify their offerings and tap into adjacent markets, the pet food category is roaring with growth. According to a Grand View Research reportb, the pet food market is expected to be worth $128.4 billion by 2022, growing at a 4.3% CAGR and partially led by premiumization of pet food products. Big flavor companies have turned to pet food for growth. Symrise acquired pet food leader ADF/IDF in Feb. 2019c, and ADM acquired Neovia around the same timed. Additionally, with this growth consumers are looking for increasingly human and premium pet food products.
To discuss how to create products that appeal to pet owners and pets alike, a panel of experts presented their insight during the "How Humanization and Premiumization Shape Pet Food Development" sessions. During the panel, two of the speakers with expertise on pet food, Kadri Koppel; Ph.D., assistant professor at Kansas State University, and Susan Jojola; Ph.D., manager applied behavior research for AFB International, presented on the topic of sensory analysis and how it can help bring insight into the pet food and pet food flavor markets.
Koppel shared her insight into sensory tests and how pet sensory tests differ from traditional (human) tests. Koppel started the presentation with a basic definition of sensory analysis, stating that sensory analysis is simply "how we use our senses to evaluate products." She went on to explain that sensory analysis generally falls into two camps: analytic testing (descriptive and discrimination) and hedonic analysis (preference testing). When it comes to pet food and flavors, sensory testing has an extra layer. Not only do you want to create a product that the pet owner finds satisfying, but you also want to make sure that the pet enjoys the product.
While traditional taste panels are not conducted with humans for pet food, other tests like aroma tests can be used to glean important pet food insight. Koppel shared one study that was conducted on commercially available canned cat food. The study found that few products contain meaty/poultry or fishy/vitamin aromas. While this might be a coincidence, Koppel elaborated that this gap can provide an opportunity for product developers to create and innovate. In another study, Koppel presented results on an appearance test and how color and shape played a role in pet owner preferences. The research found that United States pet owners tend to prefer round or kibble and bits pet food that is darker in color, while in Thailand brighter colors and unique-shaped food was more popular. Through tests like these, companies can make insightful decisions during the development process.  
The conversation on sensory tests continued in the next session with Jojola presenting on how pet behaviors can provide clues into flavor and food preferences. During her talk, she shared research and experiments that were done with animals to help determine what ingredients were best suited for pets.
"Ingredient supplier and even product developers really want to look at flavors and raw materials and see what the interest is for cats and dogs," said Jojola. "Consumers, of course, want to make sure that their cat or dog is enjoying that food that they are not just accepting it by eating … We want to know from their perspective, if they enjoyed the food, not necessarily from the pet parent perspective."  
In one experiment, a test was created where a cat was presented with two canisters of two different ingredients (one control and one test ingredient). The cat was able to smell the ingredients but was unable to see or taste it. When the cat was presented with these ingredients, the cat gravitated towards one and started pawing it, which indicated it liked one ingredient over the other. In a similar experiment, to test dislike, a cat was presented with two ingredients, one containing an ingredient that cat's generally disliked. This time, when the cat smelled the test ingredient, it recoiled and began to sniff, which indicates a negative response.
From Elote to African-inspired Pizza Flavors
No trip to IFT would be complete without trying the latest ingredients and flavor innovation from the show exhibitors. Just as flavorists and food product developers are bracing for global shifts in the supply chain, ingredient companies and suppliers have prepared by adjusting its portfolios to include more natural ingredients and ingredients sourced through renewable or sustainable approaches.  
One of the first stops on the show floor was Naturex, a subsidiary of Givaudan. At the booth, the company featured its latest and greatest ingredients in a range of beverage and snack applications. At the booth, Naturex featured two bubble tea beverages – Yellow Sunrise and Blue Hurricane. The first one was created with the company's Acerolife 34% NOC #ON700004 functional botanical extract and its Vegebrite yellow from carrot CAX00551, while the second was formulated with the company's Yerba mate PE 2% caffeine DC240113 and green coffee PE 10-12% caffeine NOC WS DA241397 extracts. The company also featured a traditional elote with a fire-roasted mayo dressing (created with its XtraBlend RN: EDTA replacer BA252001 preservative) and a green chili sauce (created with its dark roasted tomato puree NV01P02, Morita chipotle puree NV0RPP50 and Molcajete NV015C91) and a homemade granola trail mix created with the company's DD raspberry 370.
Sampling both savory and beverage applications, Bell Flavors & Fragrances featured a rotating menu of flavors, available in a pizza application. On Monday, the company featured a West African-inspired chicken Yassa pizza with a chili sauce. The Yassa sauce was created with a lime flavor WONF (fresh type), an onion flavor WONF (caramelized type), a Maggi seasoning type flavor and a natural chicken, roasted type flavor OS; while the chili sauce was formulated with a natural flavor enhancer SD, a natural curry, Madras yellow type flavor, a natural curry leaf, roasted type flavor and a pepper, habañero flavor WONF. On Tuesday, the company featured a Tunisian Date Pizza, formulated with natural ghee type flavor OS, natural cinnamon flavor, nutmeg flavor WONF and orange blossom (neroli) flavor WONF. Lastly, on Wednesday, the company featured a Zanzibari breakfast pizza formulated with a natural spice, garam masala type flavor OS, natural cilantro flavor WONF OS (fresh type), a natural flavor enhancer SD, a natural ghee type flavor OS, a natural mango, green type flavor and a cumin flavor WONF OS. To wash it down, Bell offered a baobab papaya flavored rooibos tea (created with a rooibos spice flavor WONF and a strawberry flavor WONF) and a strawberry Ethiopian spice flavored rooibos tea (formulated with a papaya flavor WONF and a natural rooibos and baobab type flavor).   
Focusing on fresh, functional, savory and sweet tastes, ADM featured its ingredients in a range of snack and beverage applications. On the savory side, it served a plant-based shawarma bite with a red pepper and mint bean spread and roasted garlic and lemon cashew sauce, a kimchi veggie chip (formulated with a Korean kimchi flavor), a savory nutrition bite and a Cacio e Pepe veggie chip. For sweet and fresh tastes, the company featured a vanilla mint lemonade, a vegan frozen dessert with a range of ADM nuts, fruits and texture pieces that included coffee and caramel notes, and a sugar-free sweet tea formulated with its SweetRight Edge stevia. In the functional category, ADM showcased a Big Easy, berry flavored energy boost tea, a beauty-from-within beverage (formulated with citrus flavors and vitamins for skin health) and a gluten-free cookie and a kombucha bite, both for gut health.    
A Tasty Future
Despite challenges facing both the flavor and food industries, the future looks bright. According to an Allied Market Research reporte, the global packaged food market is expected to reach $3.03 trillion by 2020, growing by a CAGR of 4.5% from 2015-2020. This growth in the food market has a direct impact on the flavor market. In one Mordor Intelligence reportf, it projected the food flavor market to hit $19.84 billion by 2024, growing at a CAGR of 5.6% from 2019-2024 and led by demand for natural ingredients. While economic, ecological and other challenges will increase in the future, flavor chemists, food scientists and developers are addressing these issues the only way they know how – through innovative, on-trend and market-ready flavors and products.