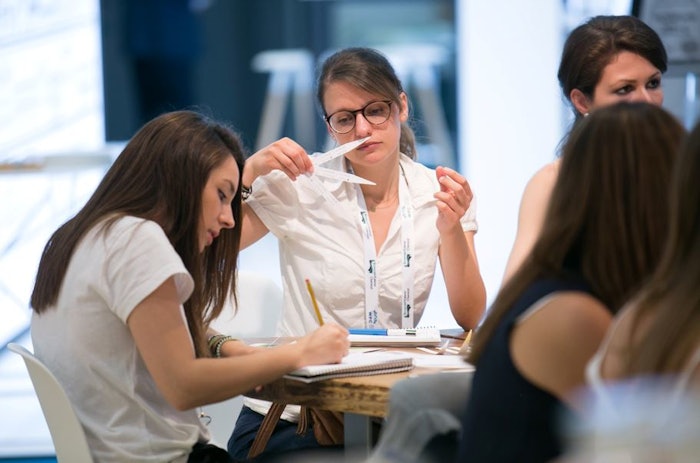 The World Perfumery Congress 2022 is inching closer! The event's long-awaited return is scheduled for June 29-July 1, 2022 at the Miami Convention Center in Miami, Florida. By the way, early bird rates are now available for attendees, be sure to visit worldperfumerycongress.com to join in the fun. Until then, get acquainted with the speaker line-up. More speakers and sessions are to be announced in the coming weeks.
Here's who is taking the stage so far:
Procter & Gamble Research Fellow & Senior Perfumer,  Phil Porter. 
Journalist, Emmanuelle Dancourt & Mane, Junior Perfumer, Ugo Charron.
Berje Perfumer, Michelle Bruckmann.
RB Global Director Fragrance & Sensory Enrichment, Pamela Asplund.
IFRA, President, Martina Bianchini & Communications Director, David O'Leary.
Givaudan Global Head of Science and Technology - Fragrances, Jeremy Compton.
Laboratoires M&L, Groupe L'Occitane,  R&D Director, Natural Ingredients and Fragrances, Pascal Portes.
Agilex Fragrances Perfumer, Neha Okhade.
Fragrance Creators, President & CEO, Farah K. Ahmed.
Symrise, Master Perfumer, Dirk Braun.
Fashion Snoops VP & Creative Director, Melissa Hago.
Firmenich Global Perfumer Division, Ilaria Resta & Principal Perfumer, Frank Voelkl.
Givaudan Vice President of Perfumery, Rodrigo Flores-Roux, alongside Senior Perfumer, Stephen Nilsen.
Sacheerome Fragrance & Flavour,  Chief Perfumer & Managing Director, Manoj Arora.
Procter & Gamble Research Fellow & Master Perfumer, Rafael Trujillo, alongside Neuroscientist, Faculty Member at Brown University and Boston College, Rachel Herz.
4160 Tuesdays Ltd Perfumer, Sarah McCartney.
YOSH olfactory sense, Founder, Yosh Han &  Palette Naturals by 40notes, LLC, Founder, Nose & Creative Director, Miriam Vareldzis.
Fresh Faces Panel Participants: Itika Oldwine Grimble (Oldvine Fragrance), Chris Collins (World of Chris Collins), with more to be announced.
Sustainability Panel Participants: Guillaume Audy (Iberchem), Julien Firmenich (Firmenich), Nathalie Benareau (Symrise), Theodore Anastasiou, Ph.D. (P2 Science) and Koenraad Vanhessche, Ph.D. ( ACS International).
Register for WPC 2022
Early bird rates are now available for the three-day conference for $1,850. Attendees can also snag tickets for chosen days of the conference, as well as grab a ticket for the Fragrance Reunion Celebration on June 30. Register at worldperfumerycongress.com.