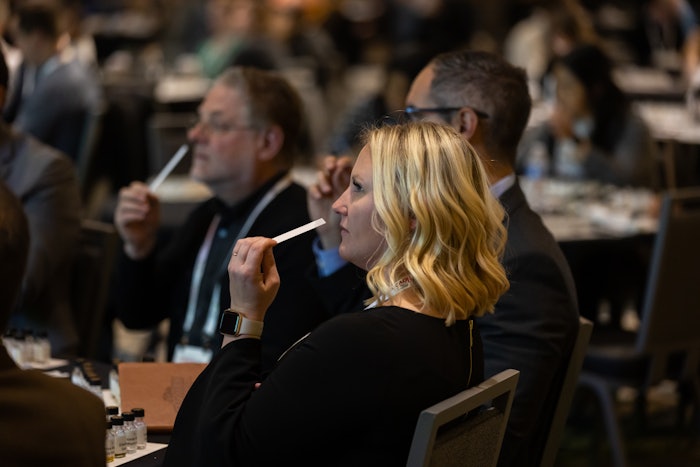 Peter Wynn Thompson
Day 2 of Flavorcon is underway! Feeling the FOMO?  No sweat, registration is still open and you can even grab a ticket at the door! 
Just in case you've missed our announcements regarding the session line-up, here's a quick recap of what's on the menu at this year's event for day two. Many of this year's speakers plan to present with samples, so be sure to prep your palate. Visit www.flavorcon.com to view all speaker bios and session details.
Thursday, November 9
• "Plant-based Market Trends in the Food Industry" with senior research analyst at Euromonitor, Miri Eliyahu, Ph.D
• "CAS-Powered Data Insights for Innovative Trendy Ingredient Formulating" with CAS assistant director, Content Director, Molly Strausbaugh.
• "Trending Ingredients and Flavors in the Snack Market" with co-founder and CEO at Spate, Olivier Zimmer.
• "Bio-based e-nose Instruments for R&D and Quality Control in Flavor and Food Manufacturing" with Aryballe senior director of Business Development Tobias Brueske.
• "How Do I Label This?" Translating Flavor Documents & Regulations with Ramboll principal, Product Stewardship & Regulatory, Lisa Navarro, Ph.D., DABT ERT and Daid Tonucci, Ph.D.
• "Formulating for Sports Nutrition and Dietary Supplements" with lead R&D technician at Catalyst Nutraceuticals, Felicite Woods.
• "Evolving Trends and Consumer Demands in The Ice Cream Market" with director of Research and Development John Bloch.
• "Confessions of a Former Sensory Scientist" with senior innovation manager at Kroger, Natalie Taake.
• "How to Brew: Empowering Flavorists" with brewmaster and certified cicerone Stephen Rich.
If you are in the Midwest be sure to use the code MIDWESTFLV for a special discounted rate for both flavorists and suppliers to attend Flavorcon 2023!
The two-day conference will include a series of data/analytics presentations, interactive educational talks and panel discussions featuring some of the industry's leading experts. Attendees will come away inspired with new tools and connections to create flavorful wins and products consumers love.
Perks: Breakfast and lunch are included in your ticket.