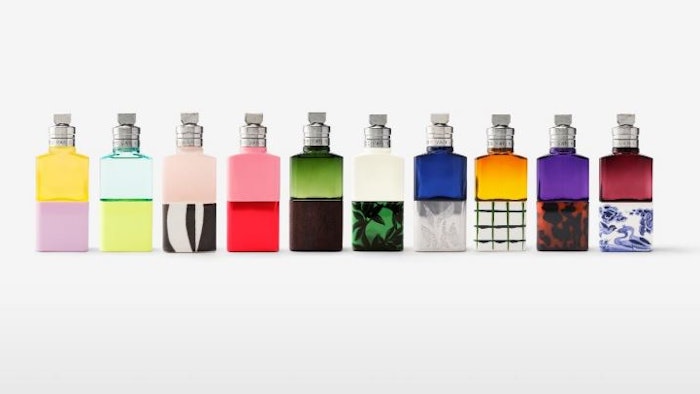 C/O
The Dries Van Noten Eau de Parfum refillable bottle has been awarded in the category of best perfume bottle at the Formes De Luxe awards. The glass bottle was manufactured at Stoelzle Masnières Parfumerie and consisted of 10 shells on the bottom of the bottle in four different materials (porcelain, plastic, wood, metal) and two types of lacquering (eight classic and two Quali Glass Coat 2.0, an ecological powder coating exclusive to STO).
Related: Report: Flavors and Fragrances Market Projected to Reach $10.4 Billion
A first of its kind for Stoelzle, the features involve developing 10 products at once; a complete product line, multi-material, with the need to adapt the bonding process to take into account the dimensional differences between the shell and the bottle, depending on the material. Each of the 10 bottles requires a different gluing system.
Dries Van Noten's collectible bottle also offers an unscrewing system with a net inside so that the closing mechanism is invisible. A key is supplied with the refill bottle to unlock the pump, as well as a funnel to facilitate filling. The bottles are refillable and reusable, which allows them to be transformed into soliflores. The bottles can also be used as a fragrance diffuser.

The creative director of the brand, Dries Van Noten, was inspired by his passion for flowers and gardening to come up with a concept for the bottles. This inspiration led him to team up with international perfumers who interpreted different aspects of the brand's character.
For Dries Van Noten Beauty creates with a focus on integrity and sustainability. All of their products are designed to be refillable and have a lower impact on the environment. Regarding the production of the bottles, these contain 11.6% recycled industrial glass (PCR glass). In addition, two of the bottles in the line are powdered with Stoelzle's technique, the Quali Glass Coat 2.0 decoration, following an eco-responsible approach. 

The bottles also come in 10 variations of decors, eight of which are lacquered: Jardin de l'Orangerie, Neon Garden, Rosa Carnivora, Cannabis Patchouli, Voodoo Chile, Rock the Myrrh, Fleur du Mal, Soie Malaquais; and two are powder coated (exclusive STO process, Quali Glass Coat 2.0): Raving Rose and Santal Greenery.