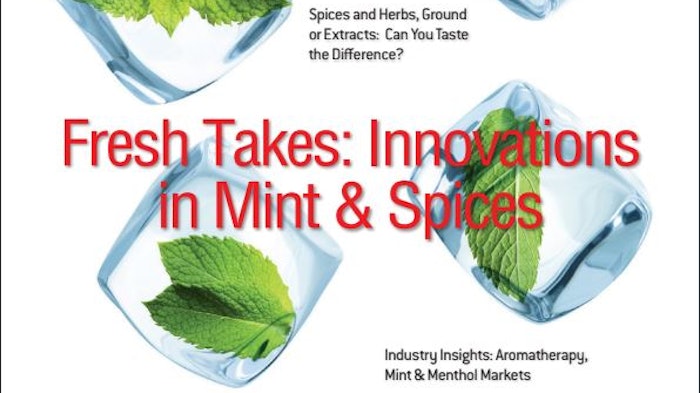 The May 2022 issue is all about refreshing reads from industry experts. This month's features cover innovations in mint and spices, as well as sustainability efforts in both the flavor and fragrance realms. Readers will also gain insight from leading companies in various markets, including aromatherapy, mint and menthol, as well as heating and cooling. Find out what's trending, changing and on the horizon in the pages ahead.
Editor's Note: Tracking Trends in F&F
Industry Insights: Discussing Market Developments featuring ADM, Givaudan, Lebermuth, RCB International Ltd., Robertet, ShengYuan and Van Aroma, Indonesia
Industry News with headlines from Kerry, Firmenich, Mane, LanzaTech and Symrise
Product Roundup featuring BASF, MilliporeSigma, Hangzhou Grascent Co., Ltd., ShengYuan Flavors and Fragrances Co. and Oqema 
Profiles: Bill Aslanides (Synergy Flavors) and Maud Chevalier (Sozio)
Flavor Bites: Allyl Isothiocyanate by John Wright
How Do Perfumers Create? with Quintis 
Part 2 of 2: F&F Ingredients: A Changing Market by Alain Frix
Skin Benefits of Sacrosantol: A Reconstituted Sandalwood Oil Based on Natural and Biotechnology-derived Ingredients by Avani Mainkar, Ph.D., and Pranjali Dhawal
Refine-Mint: How to Leverage Mint Characteristics for Any Application by ADM's Tim Chambers
Spices and Herbs, Ground or Extracts: Can You Taste the Difference? by Kalsec's Shane T. McDonald and Robin Boyle
Advancements and Opportunities in Natural-product Extraction: Green Enabling Technologies and Alternative Solvents by Christian Cravotto and Giancarlo Cravotto
Perfumer Notes: Ambrocénide by Sozio's David Maruitte
Site Visit: P&F+ Explores Sensegen, Sweegen & T. Hasegawa
The Countdown to World Perfumery Congress 2022
Organoleptic Characteristics of Flavor Materials by Bell Flavors & Fragrances Cyndie Lipka
Want to know everything going on in flavor & fragrance? Sign up for P&F+'s newsletter. You can also follow along on Instagram and LinkedIn.