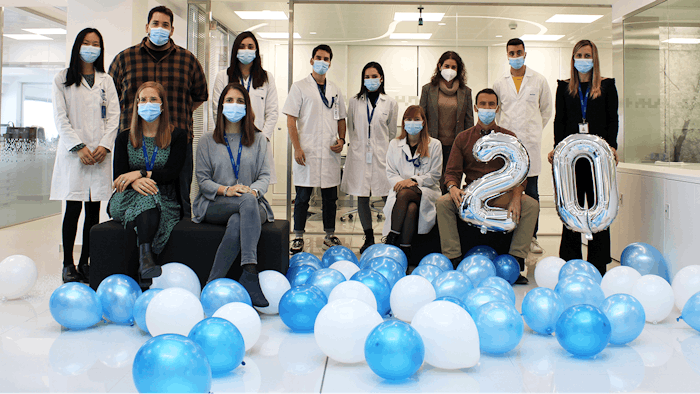 On Monday, December 13, Iberchem celebrated the 20th anniversary of IRIS, the company's internal training program in perfumery.
Related: Iberchem Expands Production Center In Brazil
The program was first launched with the aim of providing comprehensive, cross-disciplinary training for future workers in the fragrance industry. Thanks to this initiative, dozens of graduates have been able to train and start working in one of the many areas of the industry, such as laboratory analysis, perfume creation, evaluation, fragrance technologies, fragrance application, regulatory, etc.
The prerequisites for acceptance to the training program include a degree in the field of chemistry, as a large part of the training requires technical and formulation knowledge. The program lasts for two years, after which young graduates can start developing their professional career in the field of perfumery.
María Ángeles López, Fragrance Evaluation manager at Iberchem, and one of the school's mentors, said, "The majority of the students tend to be recent graduates. If they successfully complete the training and there is a vacancy that matches their skills, they are then offered a position within the company. During the admission process, several assessments are conducted, including an olfactory test and a personal interview, the latter of which is very important in our selection process. As we are training potential employees, we highly value their attitude and enthusiasm before and during their two years of training."
Alberto Grande, fragrance evaluator at Iberchem, said, "While the training at Iberchem's headquarters was very comprehensive in terms of learning the technical aspects of fragrance manufacturing, having the opportunity to work at the company's office in Dubai was the perfect occasion to conclude my training process. It gave a substantial "boost" in my career as an evaluator, more specifically in the field of fine fragrances."
Want to know everything going on in flavor & fragrance? Sign up for P&F+'s newsletter. You can also follow along on Instagram and LinkedIn.