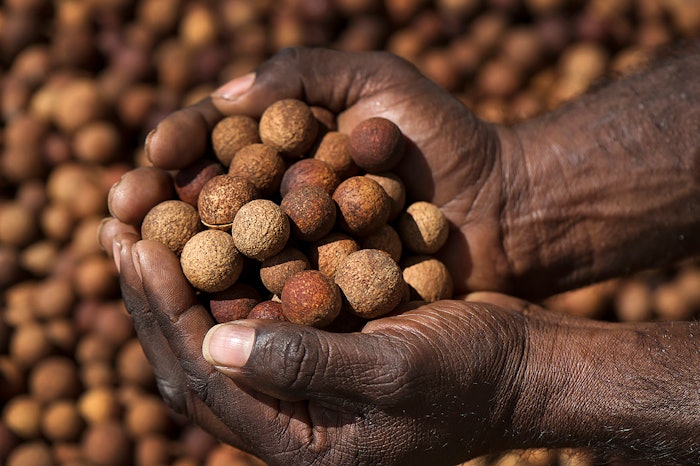 C/O DUTJAHN
Dutjahn Sandalwood's Australian sandalwood (Santalum spicatum) oil has been awarded official recognition as an ethically sourced ingredient by the Union of Ethical Biotrade (UEBT). 
Related: Dutjahn Sandalwood Highlights KFDF's Youth Ranger Program Impact
Generated through multi-stakeholder engagement, the internationally recognized UEBT standard supports the ethical sourcing of ingredients–ensuring they are grown, collected, researched, processed and commercialized in a way that respects biodiversity and people. 
Dutjahn Sandalwood Oils CEO Guy Vincent says working to the rigorous UEBT standard which includes 100 environmental, social and economic indicators, each assessed on-site by an independent auditor, has helped the company to test and develop its holistic approach.
"As a company we work to combine social justice with environmental protection–ensuring this supply chain can continue for generations to come," Vincent adds. "It's an honor to achieve Responsibly-Sourced verification in our first audit, less than a year since joining the UEBT. The UEBT standard has helped us to frame our work in areas like biodiversity protection, water-use and waste, through to issues of fair living wage, Prior Informed Consent (PIC) and Access and Benefit Sharing (ABS) for traditional owners. These are principles upon which we were founded, and areas that have long been overlooked when supplying and growing sandalwood." 
Vincent also commented on the benefits of UEBT, "An important part of UEBT is the sustainable use and regeneration of the ingredient. As part of our UEBT work we commissioned an independent expert to study Australian sandalwood populations within Indigenous harvest areas. The results revealed far higher rates of regeneration under traditional stewardship, reflecting rich ecological knowledge collected over generations. The data we gathered will not only inform practice within our supply chain, but can be used to benefit the species at large."