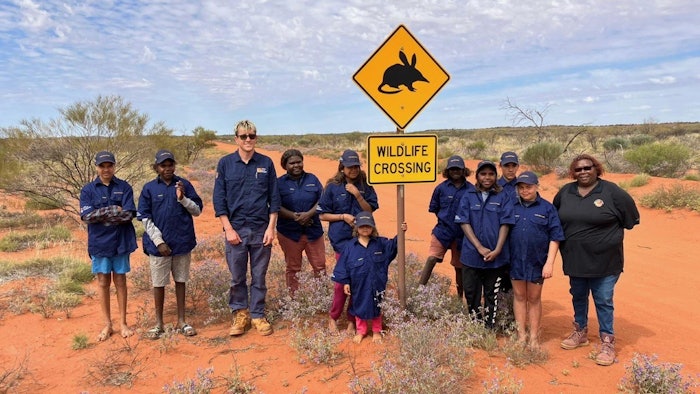 C/O DSO
Dutjahn Sandalwood Oils (DSO) announced its recent updates for the company's Aboriginal-led not-for-profit K Farmer Dutjahn Foundation (KFDF). Part of DSO's revenues supports Indigenous communities and their sandalwood lands through the foundation. 
In 2021, KFDF's seven projects supported 396 Aboriginal people in some of the most remote parts of Western Australia.
Clinton Farmer, one of the four Indigenous owners of Dutjahn Sandalwood Oils and Chairman of the KFDF, stated, "We call all that area where the sandalwood is 'Sandalwood Homeland.' We want them to be part of it, so that they can be proud and stay connected to [their] country." Farmer's father was a founder of the Indigenous sandalwood industry. 
Throughout 2022, the KFDF's Youth Ranger Program saw young custodians shadow their elders to experience culture and learn vital land care skills to support the desert ecosystem to flourish. With activities like protecting endangered animals, managing fires to reduce carbon emissions and replanting native flora including Australian sandalwood, these communities play a small but important role in combatting nature loss, addressing climate change and regenerating biodiversity.
Farmer added, "We want them to look after [their] country and teach their kids, so the next generation can take on caring for [the] country. Looking after this wood, harvesting in a sustainable way, then it can keep going."
Investing in Community
The company was awarded the United Nations Development Programme Equator Prize (UNPD) in 2019. The prize recognizes global innovators working to combat planetary crises and forge a new economy.
The 50% indigenous-owned company was the first essential oil company in the fragrance industry for its work to address climate change, biodiversity loss and inequality.
Guy Vincent, CEO, DSO, shared, "The UN Equator Prize is a shining symbol of what can be achieved when organizations strive to combine social justice and environmental protection for multiple beneficial outcomes.
[..]As a global community, there's an urgent need for us all to act–to rethink our supply chains and our impacts, adopting a more regenerative approach to improve the well-being of all living things. Since winning the Equator Prize, we've deepened our work with communities and customers, to better understand the changing local and global challenges we face. This is helping us to improve our ethics, sustainability and quality, finding better ways to produce a product that supports the planet and its people."
Want to know everything going on in flavor & fragrance? Sign up for P&F+'s newsletter. You can also follow along on Instagram and LinkedIn.