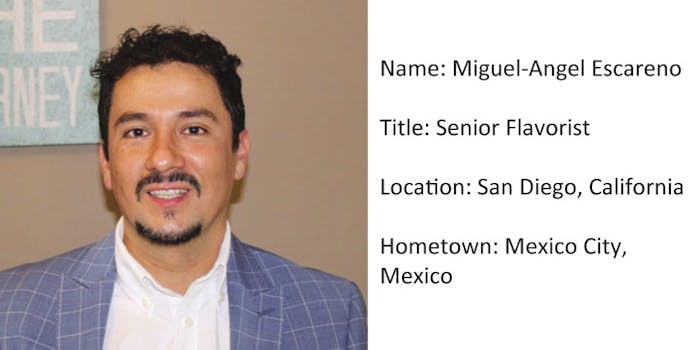 Perfumer & Flavorist+ [P&F+]: What led you to the flavor industry?
Miguel-Angel Escareno [MAE]: To be honest with you, it was a wonderful coincidence. I was finishing my bachelor's degree when I applied for an open internship opportunity in Takasago Mexico, back in 2004. As most of you know, back in that time, the flavor and fragrance industry was not popular, almost like a secret industry. I was fascinated with the industry, totally in love. I applied, and luckily, I got accepted and started my internship at Takasago. Eight months later, Takasago Mexico hired me as a flavor library technician with the privilege to attend sensory training. Coming from a biochemical background, seeing the big world of flavors changed my career perspectives. The dream started to become a reality.
P&F+: Are there any recent projects/wins you're particularly proud of?
MAE: Oh boy, that is an interesting one. I firmly believe that every single project that a flavorist works on has a piece of their heart. I design each flavor with all the attention, care and love needed to be a successful ingredient for our client. In a utopic world, all the flavors would be a sale, but in the real world, that's not the case. In this industry, you have to try and try and try again, learn, keep learning and try again. I remember a bizarre project that was a successful flavor and final product. It started as a super weird one, the client wanted a cost-effective flavor, no target, creation and for the next day. I created the simplest one with four ingredients, super cheap, but tasty enough. The flavor was a huge success for the client and for us, as well, even though for me, the goal was to reach the price restriction. Quite an experience.
P&F+: Describe yourself in three ingredients.
MAE: Stupendous topic, indeed! Firstly, I will pick vanilla extract, for sure. I was born and raised in Mexico, where the vanilla beans/flowers and early extraction processes were discovered by the Spanish conquers around the 15th century. Then, they shared it with the entire world. Vanilla extract has such a unique, rich and complex profile developed by the Maillard reaction. Without a doubt, it's the main flavor/food additive. Nowadays, we are still facing a shortage due to climate change. It is when the flavor industry jumps into the game, mimicking such a unique spice.
Secondly, I will pick orange cold-pressed oil. Why? It is so basic, but at the same time, so complex and used in a wide variety of profiles, not only citrus flavors.
Last but not least, I will select DMS. I love that molecule, at low rates. It helps a lot in a wide variety of profiles. Quite basic, but powerful.
P&F+: Do you have any advice for people coming into the flavor field?
MAE: Be patient. I remember a very vivid personal lesson that the former president of the British Society of Flavourists, Brian Grainger, gave to me: the reward is going to come in small, minuscule drops, but you will enjoy it. Don't get used to it and push yourself to keep learning; even if your flavors were not gladly accepted, that is an opportunity to you to grow. For sure feed that passion every time, try to discover new things, reinvent yourself and, when the time comes, teach the knowledge that you acquired with humbleness.
P&F+: What is the best part of your job?
MAE: Certainly, one of the best parts is recognition. It is like when you see one product on the market. I feel equivalent if that was like our little baby monster created with teamwork and resilience. Also, seeing the happiness of the customer when we as a team achieve the goal. Talking with my colleagues and sharing some good times and experiences is also quite pleasurable. At the beginning of my career, I saw flavorists like rock stars; now I see my colleagues like rock stars but with huge brains connected to the heart. Never forget the payday and if it is Friday, all the better!
For the full article, please check out the Perfumer & Flavorist+ December 2021 issue.